Split toning is a technique where a color cast is applied to an image, but the color cast applied to the highlights is different to the color applied to the shadows.
Different color casts can give different feelings to an image. Oranges, reds, and yellows can give a warm, sunny day feeling. Blues can give a cold feeling. Greens and magentas can give a cross-processed film look.
There are quite a few different ways a split toned effect can be applied to an image. Different methods can be applied at different stages of the image editing process, they differ in how much control they offer, and how quickly they can be applied. In this article we'll look at the main split toning methods so you can decide for yourself which one would work best for your needs.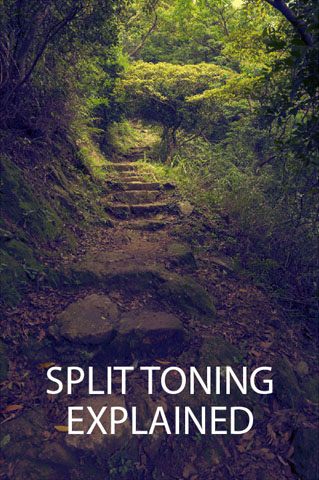 As you can see, there are quite a few different methods you can use to split tone an image. You can play around with the different methods to fine tune the results. Play around with the starting saturation of your image too - often a split tone effect will work very well with an image that has some color, but is not strongly saturated.
With the techniques described above, even if you're not using GIMP or Photoshop as your editor, hopefully there will be at least one you can easily apply to split tone your images. And don't forget that for many of these methods, when you find a setting you like the result of, you can save it as a preset and then easily apply the same effect to other images in the future.