If you have an interchangeable lens camera, such as a DSLR or CSC, then you're probably aware that the ability to use a range of different lenses with your camera can be very useful. You should also be aware that you can't mix and match lenses designed for different camera mounts. You can't use a Nikon lens on a Canon camera and vice-versa.
However, this is not actually always the case. A lens mount adapter can allow you to use your camera with lenses that have a different mount. It can even allow you to use lenses that aren't designed for use with cameras at all.
In this article we'll look at Lens mount adapters. Why you might want to use one, the different types you can find, compatibility issues, and potential problems they can have.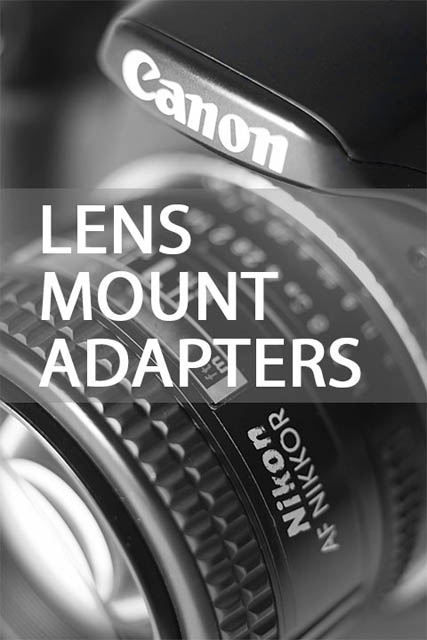 Why would you want to use a lens adapter?
Most camera systems today have a wide range of different lenses available for them. So you might be wondering why anyone would want to use a lens designed for a different camera system with their camera. There are quite a few reasons.
One reason is that there may not be an equivalent lens available for your camera system. This might be in terms of focal length, focal range, size / weight, or image quality.
A few years ago quite a few Canon photographers were purchasing the Nikon 14-24mm f/2.8 lens for landscape work, as a lens of that focal range and image quality was not available in Canon mount. But they wanted to keep their Canon cameras, so they bought the lens and used it with an adapter.

I wouldn't swim in this lake, but it's beautiful! | 101125-7171-jikatu by Jimmy Baikovicius on Flickr (licensed CC-BY-SA)
Another reason is that you may already have an existing supply of lenses that you want to use with your camera, but they might use different mounts. It could be that have a selection of old lenses that you used to use with a film camera, which are not compatible with your modern digital camera.
Or it could be that you've recently purchased a Compact System Camera to go alongside your DSLR. And you would like the ability to use your existing DSLR lenses with the smaller camera.
There are quite a few camera mounts that are no longer used, such as Canon FD, Olympus OM, Minolta MD, and M42. These mounts had lots of lenses produced for them, but because there aren't any modern cameras with these mounts, the lenses tend to be sold quite cheaply. (With the popularity of using adapters, their prices have shot up quite a bit from what they used to be though).
Using an old lens with an adapter will often work out much cheaper than buying a modern lens that is designed for your camera's mount.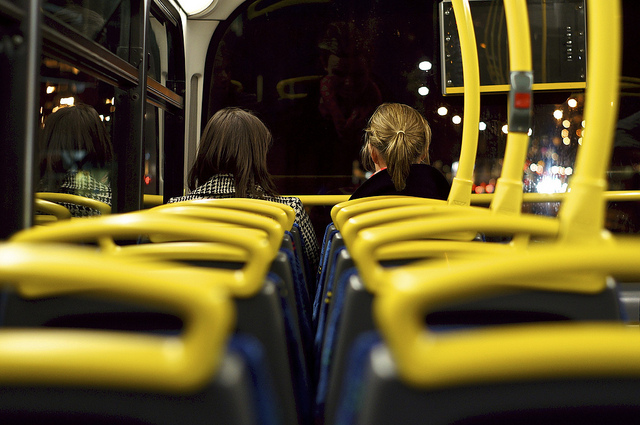 Theatre by kоnstantin on Flickr (licensed CC-BY)
It might even just be that you would like to experiment with old or unusual lenses. People have adapted old projector lenses, photocopier lenses, lenses from old medical equipment, and enlarger lenses for use with digital cameras. Some old lenses give very good results. Others give results that might not be considered quite so sharp, but have a distinctive look about them.
How does a lens adapter work?
All adapters are used in a similar way. One side has a lens mount for connecting a lens. The other side has a bayonet mount for connecting to your camera. You attach the adapter to the lens, then attach the lens to the camera.

Anatomy of a basic lens adapter example - Nikon F to Canon EF mount adapter, camera side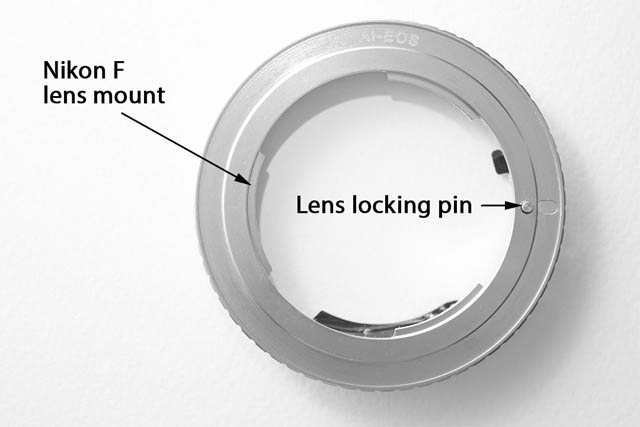 Anatomy of a basic lens adapter example - Nikon F to Canon EF mount adapter, lens side
Some adapters also feature an aperture control. This may be used to control the aperture of the lens used with the adapter, or the adapter may feature a built-in aperture mechanism itself. These are designed for use with lenses that don't have a built-in aperture ring, such as Nikon G series lenses and Canon EF / EF-S lenses.
Adapters designed for use on Compact System Cameras sometimes feature a built-in focusing helical. This allows you to turn the helical on the adapter to move the lens further away from the image sensor. This means that the lens can focus closer than it would normally.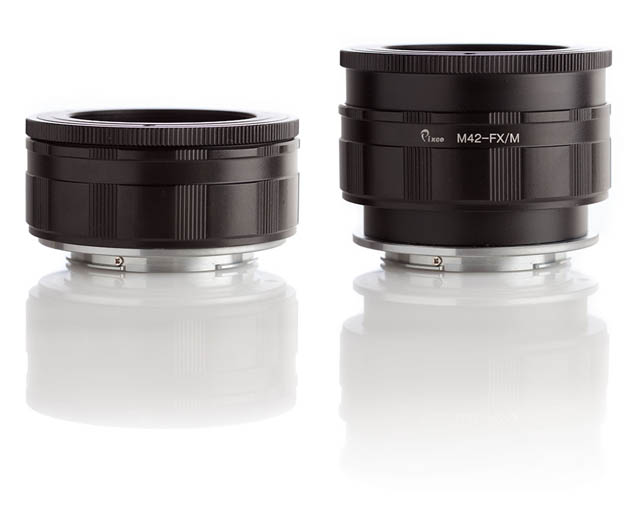 Example of a lens mount adapter with a built-in focusing helical. With the helical retracted for infinity focus (left), and extended for close-up / macro (right).
This type of adapter is like a variable length extension tube with a minimum length of zero.
Now, an adapter is not quite as simple as just a piece of metal with a camera mount on one side and a lens mount on the other. The adapter also needs to position the lens the correct distance away from the image sensor.
Different camera systems have a different flange back distance. This is the distance between the image sensor and the surface of the lens mount.
Standard lens adapters
If a lens is positioned further away from the sensor than the flange back distance, it won't be able to focus to infinity but will instead focus closer than it would normally. If it is positioned closer to the sensor than the flange back distance, it will focus past infinity and won't be able to focus as closely.
So for a lens from one camera system to work on another camera system, it needs to positioned the same distance from the image sensor as it would be on the system it was designed for. This makes using lenses designed for a camera with a long flange back distance on a camera with a shorter flange back distance fairly simple.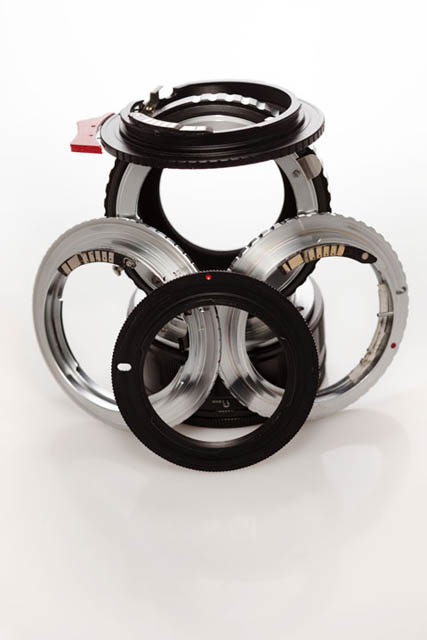 A pile of various standard lens mount adapters
To give an example, the Nikon F mount used in Nikon DSLRs has a flange back distance of 46.5mm. The Canon EF / EF-S mount used on Canon DSLRs has a flange back distance of 44mm. So to use a Nikon lens on a Canon camera, you just require an adapter with a thickness of 2.5mm. That puts the lens at the same distance from the image sensor as it would be on a Nikon camera, so it will work properly*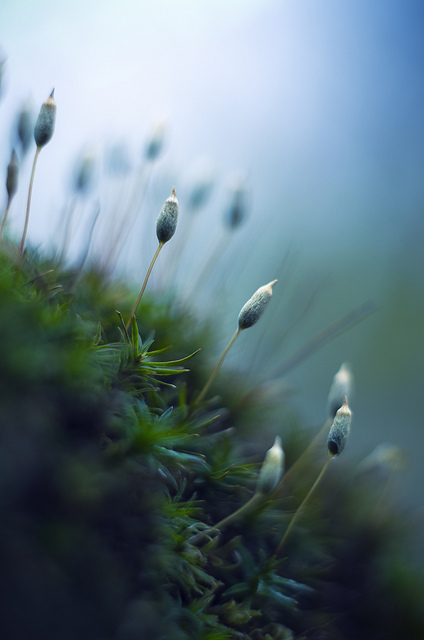 moss plant by Hiroyuki Takeda on Flickr (licensed CC-BY-ND)
You can find a list of the flange back distances of most camera mounts in this Wikipedia article: Flange focal distance.
Lens adapters with corrective elements
As you might have guessed from the above example, using a lens designed for a camera system with a shorter flange back distance on a camera with a longer flange back distance is very problematic. If you wanted to use a Canon lens on a Nikon camera, you'd need to shave 2.5mm off the mount. An adapter is not going to be able to do that.
In this case the adapter must feature a corrective glass element. This usually acts as a mild teleconverter, giving you a slightly narrower view than you would get if the lens was used on its native camera system.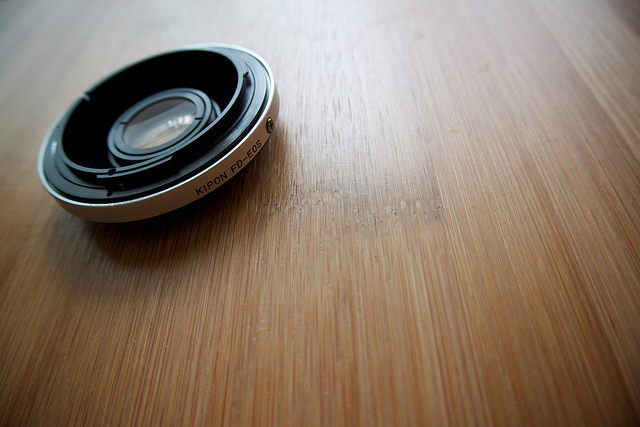 FD lens to EOS camera body adapter. by MIKI Yoshihito on Flickr (licensed CC-BY)
An example of this type of adapter are models designed for using Canon FD mount lenses on modern DSLRs. (I am not aware of any adapter for using modern Canon EF lenses on Nikon DSLRs).
Speed booster lens adapters
A third type of adapter is that often referred to as a 'speed booster'. These adapters are designed for use with compact system cameras, and incorporate optics that act like a reverse teleconverter.

Metabones Canon EF Lens to Sony NEX Speed Booster
With most compact system cameras you have a 'crop factor', such as 1.5x or 2x. This gives a 35mm field of view equivalent to 1.5x or 2x the focal length of the lens used. What the adapter does is partially reverse this, so that the final crop factor may be more like 1.2x or 1.1x.
This also gives the benefit that more of the light from the lens will hit the sensor. This is why this type of adapter is known as a speed booster - it effectively boosts the lens' speed.

Steve-the-farmer; test of the MB Speedbooster by rpavich on Flickr (licensed CC-BY)
Note that this type of adapter is meant for use with lenses that were designed for full frame 35mm digital or film cameras. If the lens was only designed with a smaller image circle (e.g. APS-C), then this reduced image circle will be reduced further by the speed booster and you'll get an image with a circular shape and black edges.
The problems with lens adapters
Although quite a few photographers do make use of lens adapters, the majority do not. Most people stick to lenses that are designed for their camera system rather than trying to use lenses designed for another camera system.
That is certainly the easiest route, as there can be a number of issues when using a lens with an adapter.
The first, and main issue, is that generally you won't get any control of the lens from the camera. This means that the camera can't focus the lens, and it can't adjust the aperture either. You have to manually focus the lens and manually set the aperture on the lens itself (not via the camera).
When you are working slowly, e.g. landscape photography, this is often not an issue. But for many other types of photography this can be a deal breaker.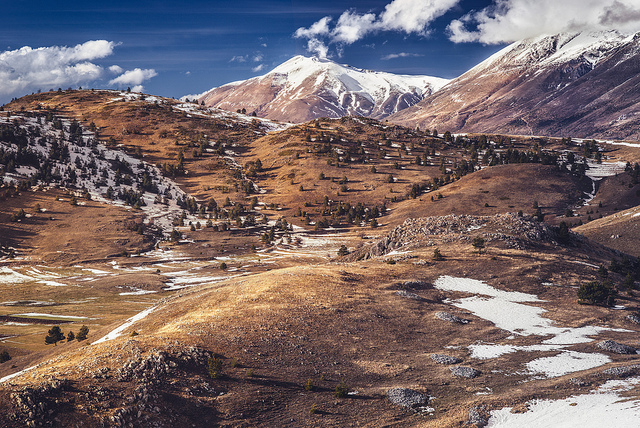 Chord by Daniel Zedda on Flickr (licensed CC-BY)
Some adapters include a chip that allows the camera to show a focus confirmation when the active focus point is in focus. But you still have to manually focus the lens, and in my experience there is quite a bit of leeway in what is considered 'in focus'.
There are some adapters that allow autofocus, such as some Metabones adapters for using Canon EF lenses with Sony's Compact System Cameras. However these adapters are very expensive, don't work with all lenses, and autofocus tends to be very slow.
Having said that there are a few adapters where you don't loose anything in terms of autofocus or control, such as Sony's α to E / FE mount adapter and Nikon's F to 1 mount adapter. These official camera manufacturer produced adapters do tend to be quite expensive though, and keep you within the same manufacturer's product line.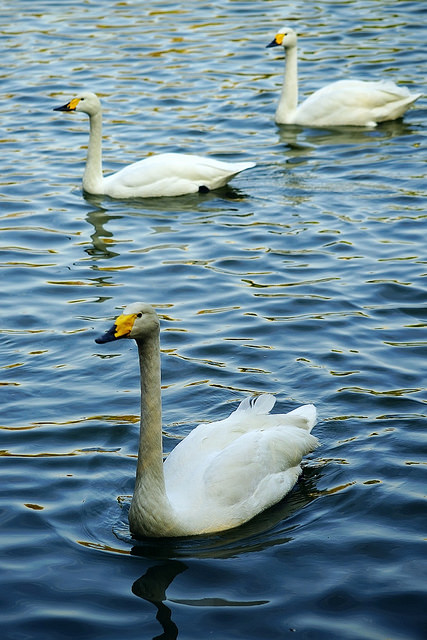 Swan by Calvin Ge on Flickr (licensed CC-BY-SA)
If you use an adapter that contains optics, then these optics will affect the image quality somewhat. How much the image quality is affected depends on the quality of the adapter.
The official Canon FD to EF adapter is highly regarded for its quality, for example, but is is very rare and will set you back several hundred dollars (~$500-600). Cheap adapters that contain optics are likely to have a noticeable negative impact on image quality.
Although an adapter may let you use lenses designed for a different mount, this doesn't necessarily mean all lenses built for that mount will be usable.
This is particularly true for DSLRs. Some lenses can extend quite far back into the camera. This could cause the rear of the lens to come into contact with the camera's mirror. You wouldn't be able to take photos and could risk damaging your camera and the rear element of the lens.
Other lenses may have tabs or protrusions on them that need to be removed to safely mount the lens with an adapter.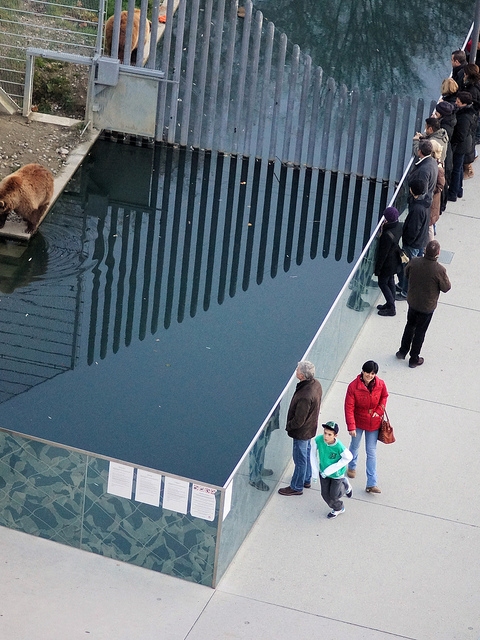 Who cares for the bears? by Karsten Seiferlin on Flickr (licensed CC-BY-SA)
Some lenses just aren't designed to work well with digital sensors. (Or you could say digital sensors just aren't designed to work well with some types of lenses). Wide-angle rangefinder lenses typically mount very close to the sensor, so the light from the lens hits the sensor at a very acute angle near the edges.
This can cause issues such as edge softness, vignetting, and color casts. Not good.
If a lens uses a fly-by-wire focusing mechanism, then it's unlikely you'll be able to focus it using an adapter. Without the electronic coupling between the lens and camera the focus ring may turn, but not actually do anything. (All old lenses use a mechanically coupled focusing ring, and won't have this issue).
Some lenses don't feature an aperture ring. If you have one of these lenses, which you want to use with a different camera system, you must make sure the adapter features an aperture control. Without that the lens' aperture will always be fully open or fully closed (depends on the mount the lens is designed for).

R8054702 by Radiogon Y on Flickr (licensed CC-BY-ND)
Another issue with adapters is that they are often not built to strict tolerances. Using the Nikon lens on a Canon camera example again, the adapter should be 2.5mm thick. But it may actually be 2.2mm thick. This ensures that lens will definitely be able to focus to infinity.
But the lens won't be able to focus quite as close as it should be able to. And a bigger issue, since you'll likely be working with manual focus, is that the distance scale on the lens is now incorrect. If you focused the lens to the infinity marking, you'd actually be focusing past infinity.
This is certainly not an issue with all adapters. Some are built quite precisely to the correct thickness. But it is something you should be aware of - make sure you read reviews of the adapter if this is important to you.
Adding an adapter to a lens makes it larger. If you have a compact system camera, do you really want to add the length and size of an adapter and large lens? The answer might be yes, but it is something to think about.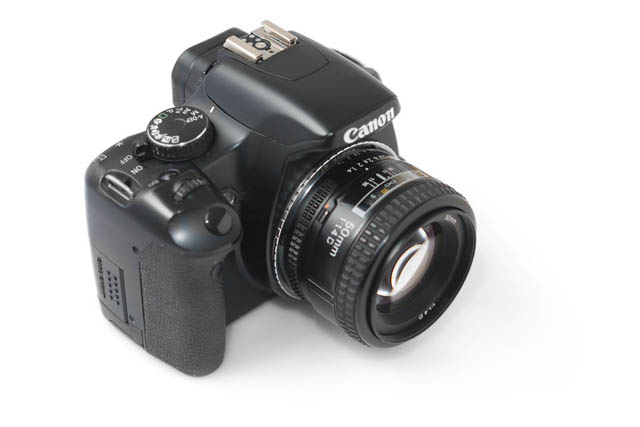 Mounted on a Canon EF mount camera, this Nikon F mount lens looks quite reasonable in size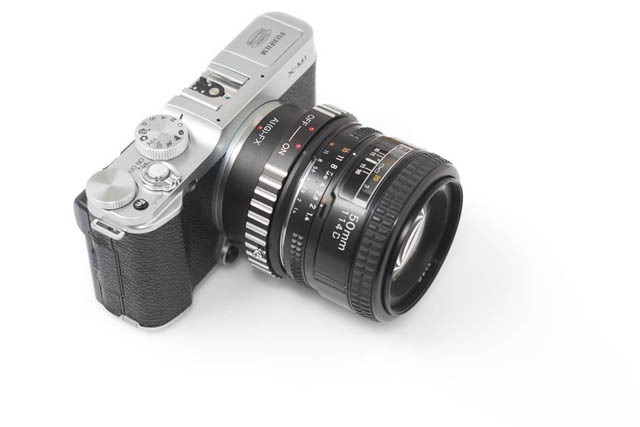 On a CSC (Compact System Camera) the lens plus adapter looks rather large and bulky
Lastly, you will likely also want to buy some more rear lens caps. If you intend on leaving the adapter on a lens, then you'll want a matching rear lens cap. Otherwise you have no way of protecting the lens' rear element when not in use.
Using an adapted lens can be a pain. Often you'll have no autofocus, no automatic aperture control, and the lens distance scale may not be accurate. But on the other hand it opens up a wide range of old 2nd hand lenses that you wouldn't have access to and may not be able to afford the modern equivalents of.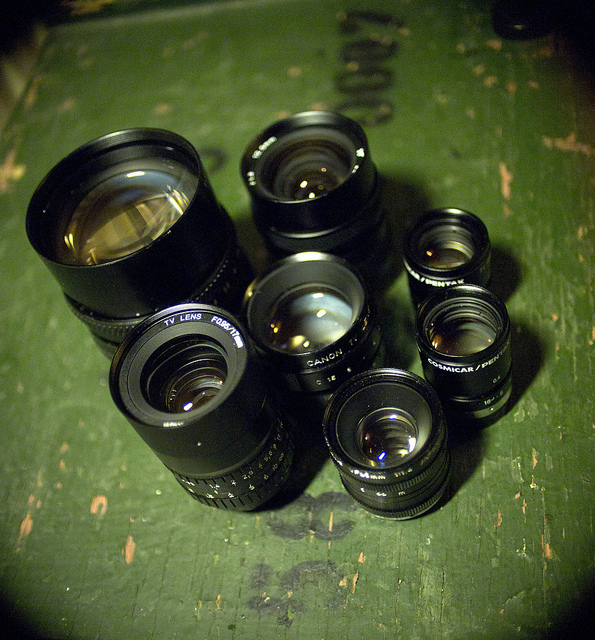 Collection by M.T. Kurkela on Flickr (licensed CC-BY)
Depending on what adapter you go for, lens adapters can be a cheap way to open up your camera system to many more creative options.