In recent years, the choice in camera models has become much greater, with some completely new types of camera being released. With all the different types of camera, and the different names used to describe them, it can be a bit confusing. In the next series of articles I'll try and clear this up a bit, as well as listing the advantages and disadvantages of each type.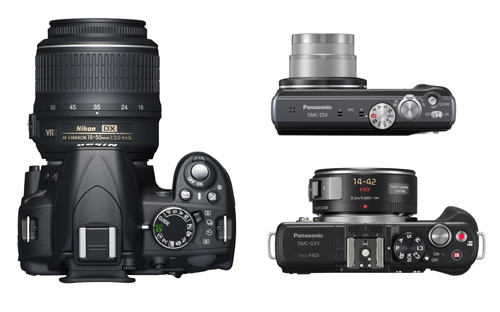 This composite photo shows the relative scale of a Nikon D3100 DSLR (left), Panasonic GX1 MILC (bottom right), and Panasonic ZS9 Compact camera (top right).
MILCs
MILC stands for Mirrorless Interchangeable Lens Camera, and they are a cross between a compact camera and an SLR. MILCs (with the exception of the Pentax Q and Nikon 1 models) feature the large sensor and ability to change lenses of a DSLR camera, while lacking the DSLR's mirror, which allows a much smaller body size.
They are also known as Mirrorless cameras, ILCs (Interchangeable Lens Compacts), EVIL (Electronic Viewfinder Interchangeable Lens) and CSCs (Compact System Cameras). As these types of cameras are relatively new, a standard name has not yet won out in terms of usage.
MILC Manufacturers
There are a number of manufacturers of MILCs, Panasonic and Olympus produce compatible cameras with the micro four thirds (m4/3) lens mount, while Sony has its own NEX mount, and Samsung has its own NX mount.
Sony, Fuji, and Samsung use APS-C sized sensors, commonly found in DLSRs, while m4/3 cameras use a smaller sized sensor. This means that the Sony, Fuji, and Samsung MILCs tend to require larger and heavier lenses than the m4/3 MILCs, though the larger sensor means they perform better in low light.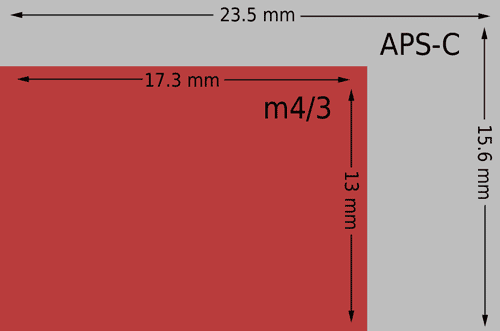 Comparison of APS-C and m4/3 sensor sizes. All else being equal, a larger sensor will perform better than a smaller sensor
Olympus MILCs feature in-body stabilization, meaning that any lens used with them will be image stabilized. This can be handy if you shoot handheld in low-light where long shutter speeds may be needed. Sony, Panasonic, and Samsung, on the other hand, build Optical Stabilization into their lenses rather than the camera bodies. They only do this with some lens models, not all.
Accessories and lens adapters
The m4/3 cameras currently have the largest range of lenses and accessories available out of all the MILC manufacturers. One of the benefits of MILCs though, is that you can use old lenses meant for other camera mounts on them.
For Sony, they offer an adapter that allows you to use their Alpha DSLR lenses with full autofocus. An adapter for micro four thirds cameras can also be bought, to allow usage of DSLR lenses designed for the four thirds system, though autofocus won't be as fast as on a DSLR.
And adapters can also be purchased for many other lens mount types, though these other adapters do not communicate between the camera body and the lens. That means only older lenses with an aperture control ring and mechanical autofocus will work. Still, these older lenses can often be picked up quite cheaply on ebay.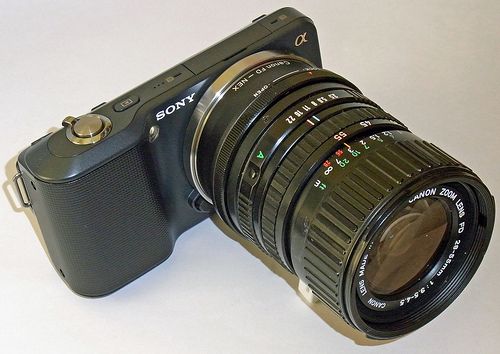 Sony Nex-3 with Canon FD 28-55mm by D H Wright on flickr (licensed CC-BY)
Benefits and disadvantages of MILCs
The benefit of MILCs over compact cameras is their larger sensors, which produce better image quality and allow greater control over depth of field. And of course, the ability to change the lens on the camera.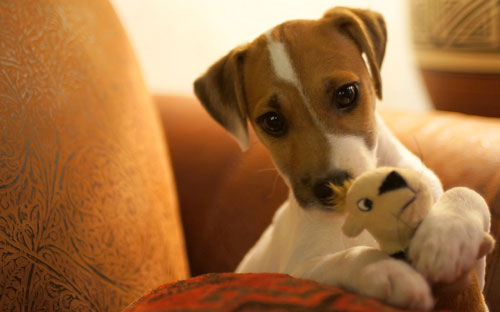 Parson Terrier Puppy - 11 wks by desmorider on flickr (licensed CC-BY)
Compared to DSLRs, the benefits of a MILC are the smaller body size, and often smaller, lighter lenses as well. A MILC with a pancake lens (a type of lens specially made to be small and flat) will usually fit in a large jacket pocket.
There are some trade-offs though, a MILC with lens will still be larger than most compact cameras. And a system with several lenses will be much more expensive than even a top of the range compact camera.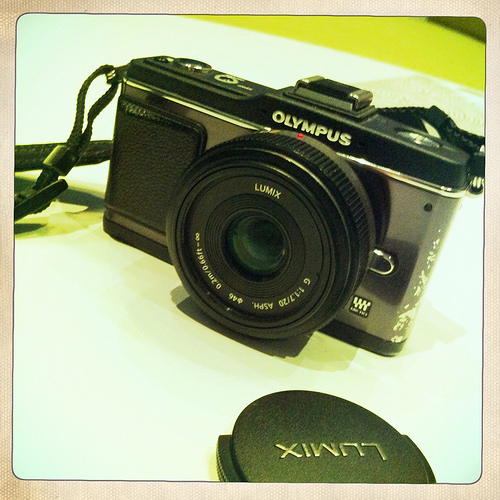 Untitled by kpi on flickr (licensed CC-BY)
Compared to lenses available for DSLRs, there are relatively few cheaper third party (e.g. Sigma, Tamron, Tokina) lenses available for the MILC systems. This means that purchasing a MILC with several lenses can be even more expensive than a DSLR.
The main disadvantage of MILCs compared to DSLRs is that they are not so good at autofocusing in dim light.
So a MILC can make a good camera choice if you don't mind carrying a bit of weight, but want to avoid the heft of a DSLR, while still getting great image quality and the benefit of interchangeable lenses. The smaller size of MILCs (when matched with small lenses) also make you less noticeable, and less likely to be regarded as a 'professional', which can make it easier to get shots in some situations.
One Response to "Digital Camera Types Explained – Mirrorless"