Action figure / toy photography is a relatively new genre of photography that has risen in popularity in recent years. Photos often feature well-known characters in unusual situations, or playing characters from different 'universes' off against one another.
In this article we'll look at why you might want to give action figure photography a try, the potential issues you'll come across and how to deal with them, and some tips for getting interesting and engaging photos.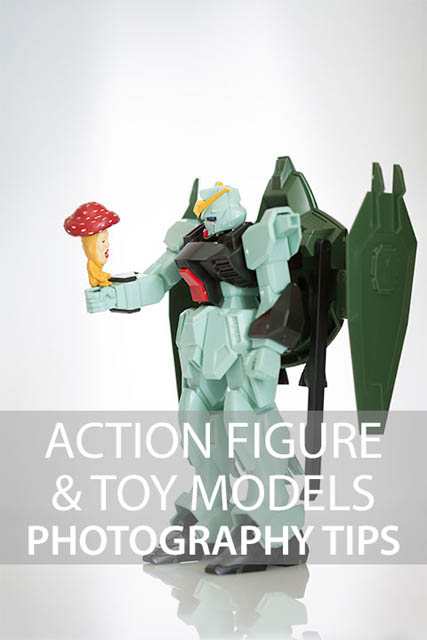 A big advantage of action figure photography is its low barrier to entry and convenience. All you need is an action figure and a camera. You can take photos at any time of day, in any weather, and don't need to travel anywhere. There are no time constraints - you can set up the scene and then take as long as you want until you get a photo you're happy with.
The majority of action figure photography is done indoors on a tabletop. While natural light can be used, artificial light is usually preferred since it gives you more control over the lighting. This might be something as simple as a flashlight - since you are shooting static subjects, you don't have to worry about keeping the exposure time short like you would with a real-life model.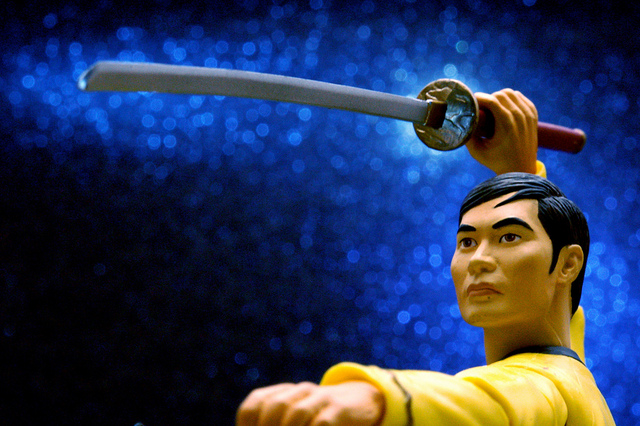 Edge Of Space by JD Hancock on Flickr (licensed CC-BY)
Playing around with lighting in tabletop photography is a great way to learn about lighting. The exact same principles apply whether you're shooting an action figure on a tabletop or a real-life person in a studio - it's just the scale that's different. Making your own light modifiers out of card and tissue paper is much easier at the tabletop scale too, since they can be so much smaller than they would need to be for full size subjects.
You don't need large expensive backdrops to use behind your model. You can use a piece of bent white card for a seamless background, or use a sheet of colored paper tacked onto the side of a box as a background. Experimenting with different colors and materials for the background is very easy.
A well done background can take a photo from good to great, so certainly play around with this. Using shiny / reflective items as the background, e.g. scrunched up foil or glittery card can give an interesting effect as it creates multiple highlights in the background.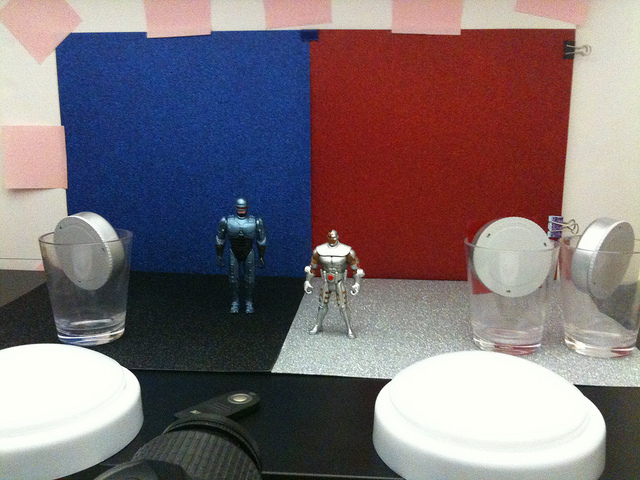 RoboCop vs. Cyborg Setup by JD Hancock on Flickr (licensed CC-BY)
When photographing action figures, the best angle is usually low down, effectively at eye-level with the figure. This creates a great sense of engagement and allows the viewer to relate to the figure more as a person than just a simple toy.
Before you start to photograph your action figure, make sure you give them a thorough dusting off. Use a soft brush and a blower to give them a good clean. Through your photos you want the figure to become something more than just a toy. But that won't work if it's covered in a visible layer of dust and lint.
Photographing Action figures and toys can be a great way to learn about lighting, while also producing some great photos. For relatively simple setups, you can get a scene set up and photographed fairly quickly and conveniently. So if you're always thinking that you don't have enough time for photography, why not give this a try?