Continuing our look at different methods for capturing macro and close-up photographs, in this article I want to look at extension tubes and bellows. Both of these methods are only applicable for cameras with interchangeable lenses, as they sit between the lens and the camera.
They both work the same way, by extending the lens away from the camera body, the minimum focusing distance of the lens decreases. You can then get closer to your subject, and get some great macro photos.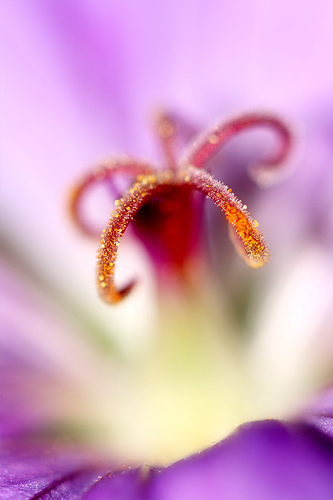 Emerge by aussiegall on flickr (licensed CC-BY)
To sum up, let's look at the benefits and disadvantages of using extension for macro and close-up photography:
Costs more than a simple reversing ring, but is quite a lot cheaper than a macro lens. Similar costs to using a close-up diopter filter.
The higher the magnification obtained using extension, the more light you need. (This is true of all macro lenses as well).
Can be used with any lens, including macro lenses and reversed lenses for high magnification macro photography.
Can be used with longer focal length lenses for close-up photography.
Doesn't work well with some wide angle lenses - the focus point may be moved so close that it is inside the lens.
Not as convenient as a macro lens as the extension needs to be removed from the lens if you then want to use it for non macro / close-up photography.
One Response to "Macro & Close-up Photography using Extension Tubes & Bellows"