Diopter or close-up lenses are a good way to add macro / close-up ability to your current photography gear. They work by screwing or clipping on to the front of your camera's lens, and decrease the minimum focusing distance. This allows you to move your camera closer to the subject, and achieve higher magnification photos.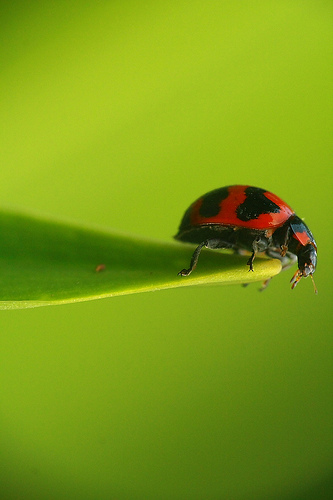 Livin' on the edge by Fountain_Head on flickr (licensed CC-BY)
These close-up lenses work with all cameras where the lens has a filter thread. So they will work with virtually all interchangeable lens camera lenses, and most bridge and advanced compact cameras that have built-in lenses. With some cameras that have an integrated lens, you may need to purchase an accessory tube that attaches to the lens to provide a filter thread that the close-up lens can then be screwed into.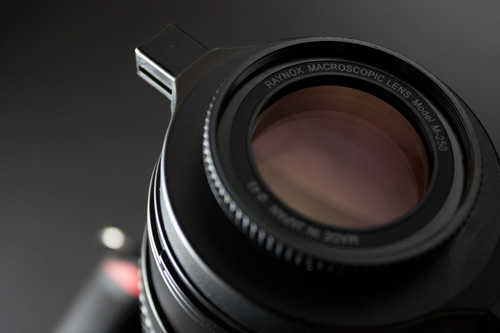 Raynox DCR-250 close-up diopter lens - this lens is quite small and uses a clip adapter to attach the camera's lens
If your camera does not have a filter thread, you can still use a close-up diopter filter, just it won't be very convenient. You'd need to hold the close-up lens in front of the camera.
As before, here's a round up of the main advantages and disadvantages of diopters compared to other methods of macro photography:
Can be used with any camera or lens, not just for interchangeable lens cameras.
Depending on filter size and lens there may be vignetting at wider focal lengths.
Depth of field is more compressed than with other methods of macro / close-up photography.
Cost is quite a lot less than a new macro lens, though a lot more expensive than a reverse lens adapter.
No light loss, unlike all other methods of macro / close-up photography.
Can be used with macro lenses or lenses mounted on extension tubes / bellows to increase magnification even more.
Small and lightweight.
Working distance generally larger than using a reversed lens or lens with extension tubes.
2 Responses to "Macro & Close-up Photography using Diopters and Coupled Lenses"