If you own an interchangeable lens camera and are looking at purchasing a new lens, you may wonder what all those different numbers and letters that form part of the lens name mean. Or you may just be wondering what they mean on your current lens / camera.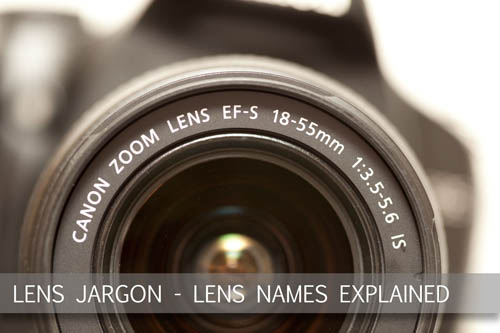 The numbers and letters are included as part of the lens name by manufacturers to give brief information about the lens. Unfortunately, different manufacturers tend to use different nomenclature, which makes comparing lenses difficult.
So, in the end it can often seem like they are included more for marketing purposes than anything else. A lens with a lot of different acronyms after it's name might sound better in the same way that people sometimes list their qualifications or organizations they are certified by after their names.
First, let's look at an example of a lens name:
Canon EF 24-70mm f/2.8L II USM
Now, let's break that down.
Canon

Is the lens manufacturer's name. In some cases third party manufacturers produce lenses under several different brand names, for example, Samyang, Walimex, Bower, and Rokinon are all names used for branding lenses produced by Samyang.

EF

Is the lens mount of the lens. For this example, it means that the lens will only work with cameras that have an EF compatible lens mount. You can read more about lens mounts in this article: Lens mounts and interchangeable lenses.

24-70mm

Is the focal length or focal length range of the lens.

f/2.8

Is the maximum aperture value of the lens. (The smaller the number, the more light the lens can let in, and the greater the control you have over the amount of the image that is in focus).

In the case of zoom lenses with a variable maximum aperture, this will be expressed as a range, such as f/3.5-5.6. The left value means the maximum aperture when the lens is set at it's widest focal length, the right value is the maximum aperture when the lens is zoomed in.

Sometimes the aperture may be expressed as a ratio, for example 1:2.8 instead of f/2.8.

L

Is a designation used by Canon to denote this lens is part of their high end 'Luxury' series.

II

Indicates this is the second version of this lens model. When a manufacturer improves a lens design, but doesn't add any additional features, then they will add a version number to distinguish from the previous version of the lens.

Note that manufacturers may sometimes make small improvements to a lens, and release it without changing the version number. In this case the only way to differentiate a newer model from an older one is using date codes or serial numbers printed on the lens.

USM

Means that the lens contains an ultrasonic motor (used for autofocus). This is a Canon specific designation, we'll look at other manufacturers in a minute.
So far we just looked at a single lens from a single manufacturer. There are lots of different lenses produced by different manufacturers, and they use different acronyms to mean the same or similar thing. I'll try and make sense of these in a way that should hopefully make comparing lenses across manufacturers easier below. For most of the acronyms I've linked them to where you can read more information about what they mean.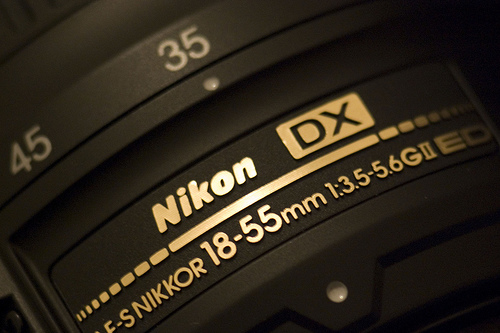 Just Kit Lens by Lambroso on flickr (licensed CC-BY-SA)
There are other acronyms you may see used as part of a lens name or description as well, but the above are the main ones. The only bits you really need to pay attention to are:
The mount - will it fit on your camera?
The focal length - will it cover the view you are looking for?
The maximum aperture - is it bright enough and will it allow for the amount of background blur you want?
The image circle the lens covers - is it suitable for use on your camera?
The other things, such as image quality, focusing speed etc. you can only tell by using a lens or reading a review. If a lens can produce good quality images, it doesn't really matter whether it does that by including super extra low dispersion glass or not.
4 Responses to "Lens jargon – Lens names explained"