When considering a new camera, you may be looking at a superzoom (sometimes known as a bridge) camera, and comparing it to a DSLR or other interchangeable lens camera. Superzooms and consumer DSLRs are often similarly priced.
The specs for the superzoom might show it as having a 24-1200mm equivalent zoom. But you can't buy a lens with this specification for the DSLR.
The DSLR might come with an 18-55mm lens, so that covers the wide end (roughly) equivalent to the superzoom. But how about that long end? Nope, it seems like you can't buy a 1200mm lens for a DSLR. Well, maybe you'll have to settle for a 600mm lens instead. But then you notice the price - as much as a small car.
So, why is a DSLR with equivalent lenses so much larger and more expensive than a superzoom camera? And why would anyone purchase a DSLR over a superzoom?
First, let's deal with reason why the superzoom is so much smaller and cheaper. It's all down to the size of the image sensor used in a superzoom camera. Let's use the Canon SX50 HS as an example of our superzoom camera.
This camera has a 50x zoom lens, with an equivalent focal length zoom of 24-1200mm. The actual focal length of the lens is 4.3-215mm. The camera uses a small sensor size of 1/2.3", which is 6.17mm measured horizontally. This gives us a crop factor of 5.58x.
If you're looking at a DSLR or mirrorless camera as an alternative, these usually have a sensor size measuring around 23.6mm horizontally (APS-C cameras - 1.5x crop) or 17.3mm (micro 4/3 - 2x crop). Much larger than the superzoom camera. Consequently, they need much larger lenses to project an image circle that covers the larger sensor size. And producing the larger pieces of optical glass used in these lenses makes them more expensive (and also heavier and larger).
Because the image is not cropped so much with a DSLR, it also means that you need a longer real focal length to give the same field of view as a camera with a small sensor.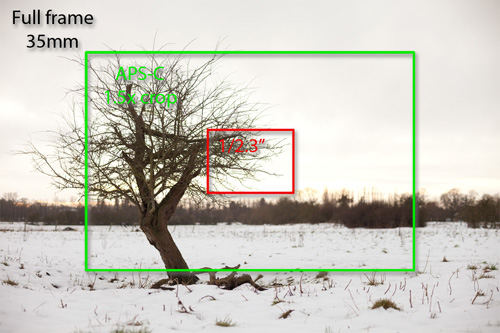 Equivalent focal lengths are measured based on the field of view they give compared to a lens used on a Full frame 35mm camera. The above image shows the smaller sensor size of an APS-C camera (most consumer DSLRs) and the small 1/2.3" sensor used in some superzoom cameras. The image shows how for a given real focal length, the smaller the sensor the size, the smaller the field of view (effectively greater the zoom).
The smaller sensor size used on a superzoom camera can be mimicked to some extent by just cropping an image made by a DSLR. If you had a DSLR (with an APS-C sized sensor) with a 215mm lens, you could crop the image down by approximately 3.8x (23.6/6.17) to achieve the same 'results' as the superzoom camera.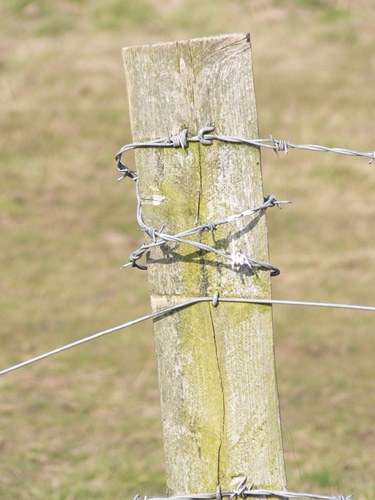 Superzoom camera at 432mm equivalent focal length, actual focal length 72mm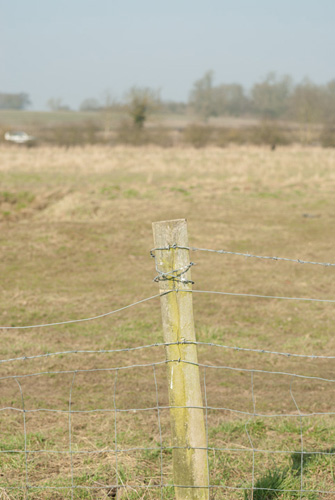 Consumer DSLR camera at 72mm actual focal length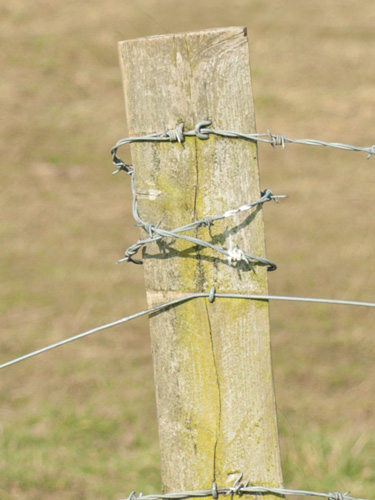 Consumer DSLR camera at 72mm actual focal length cropped in software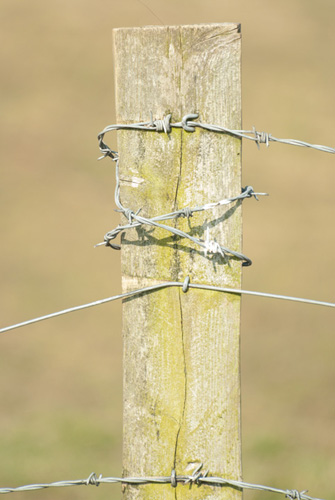 Consumer DSLR camera at 432mm equivalent focal length, actual focal length 284mm - notice how blurred the background is compared to the other images.
I used quote marks around the word 'results' above, as the results of cropping a DSLR photo down to the same view as a superzoom camera are not really equivalent, other than the perspective and field of view.
Superzoom cameras, with their smaller sensors, have many pixels packed into a small area. DSLRs have more pixels, but spread over a large area. So when you crop down the area of a DSLR photo, you are left with a small area that does not have as many pixels as a uncropped image from a superzoom camera.
For example, Nikon's D5200 has a 24MP pixel count. Canon's SX50 has a 12MP pixel count. Let's say we took a photo on both cameras at the real focal length of 215mm (1200mm equivalent on the SX50). We then crop down the DSLR image so that it has the same field of view as the superzoom image. After cropping, the DSLR image would only have a resolution of 1.8MP!
So, given all this, why would anyone buy a DSLR over a superzoom camera? Simply put, a DSLR has different advantages over a superzoom. If you want a camera that will allow you to take close-up photos of subjects that are far away, then a superzoom camera will likely suit you best. A DSLR with a super telephoto lens will give superior results, but except for a few people (such as professionals), it will be overkill.
If you want to:
Take photos with defocused backgrounds
Get good quality images in low light situations
Work with off-camera flash
Have the ability to use specialist lenses such as tilt-shift, super wide-angle, and fisheye lenses
Then a DSLR (or similar interchangeable lens camera) might be a better choice.
Everything has it's trade-offs, a Superzoom offers the ability to go from wide-angle to super telephoto all in one small, relatively light-weight package. A DSLR offers more flexibility, and for most applications, better image quality. Ultimately, the decision when purchasing any camera often comes down to how well the camera will do what it will be used most for.