With over a billion photos being shared every day on social media, it can be very difficult to have your photos stand out from the rest. With the vast majority of photos being taken on smartphones, one way you can help your photos vie for attention is by taking advantage of the abilities of a compact system camera or DSLR.
Now, using a CSC / DSLR to take your photos is no substitute for a creative, well composed, and beautifully lit image. Using a 'proper' camera rather than a phone doesn't suddenly give you a better image.
But there are some things a CSC / DSLR camera can do that a phone camera cannot. And by combining your creativity with the abilities of a CSC / DSLR you can achieve a strong image with features that help it stand out from amongst the smartphone images.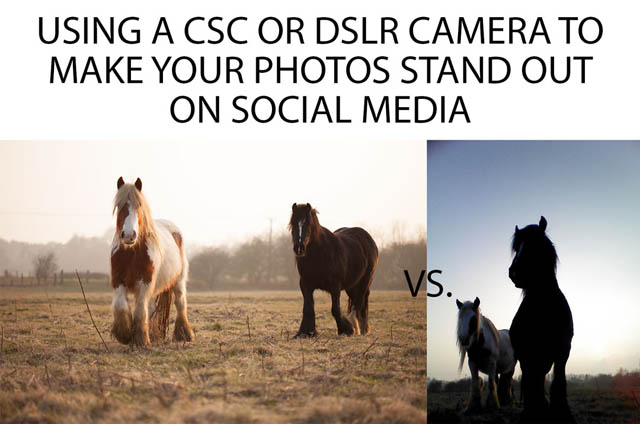 Making use of the things DSLRs / CSCs are good at but smartphones are not can help your photos stand out from amongst all the heavily filtered typical phone photos. As I said earlier though, this is not enough in itself, you also need to be producing photos that are interesting and aesthetically pleasing.
There are plenty of articles about different techniques you can utilize for eye catching photos. And just trying out a new technique can give you a burst of creativity. (As can using a 'proper' camera if you're used to taking photos with your phone). But above all, practice is the best way to hone your skills.
Lastly, it's important to mention that getting lots of likes and comments on social media isn't the be-all and end-all of photography. You don't want to be taking photos with a shallow depth of field just because it helps your photos stand out and get lots of likes. You want to be photographing in a style that you enjoy.
So don't go out of your way just to shoot certain subjects or taking photos in a certain style because it's popular. Just shoot what you enjoy, and if you're enjoying yourself and are passionate about what you're photographing, this will carry through in your images.