When photographing flowers there are two routes you can take. One is documenting the flower, where the photos show what the flower or parts of the flower look like. The other is to create an artistic image, one whose purpose is to evoke an emotional response rather than present an accurate portrayal of the flower.
Of course, a technical photo of a flower can still be artistic and create an emotional response to it. And an artistic photo may not create an emotional response in everyone who views it. Art is, after all, subjective. But the driving purpose behind the creation of the photograph is quite different.
In this article we'll be looking at flower photography from both points of view, but focusing more on the artistic side.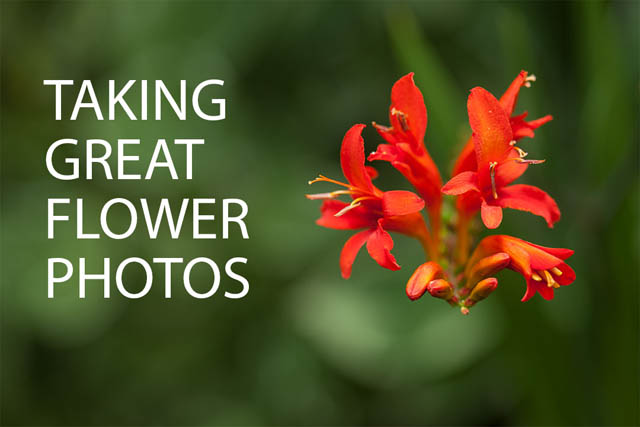 For good artistic flower photos you really need to understand how to use your equipment, the technicalities of photography, and what your different camera settings do. It may sound counter intuitive that you need understand all the technical details to create artistic photos.
But a good record shot of a flower is very easy to create. Just use a phone camera or compact camera, and you can get a useful image with all the flower in focus. For an artistic photo you need to make more decisions, such as what part of the flower to focus on, how it should be lit, what the background should look like, how much of the image should be in focus, and more. All these choices come back to understanding the technical details of photography.
Understanding the technicalities means you know how to create the image you are looking for. It allows you to focus your attention on being creative. You can focus on how the image should be best composed and lit, rather than worrying about why the image is coming out too bright / dark, or other technical issues.
A good painting is mainly a result of the painter's skill, but the choice of paints, brushes, and canvas they use all affect the look of the final image. It's just the same in photography. A good photo is mainly dependent on your skill and creativity as a photographer, but the equipment you choose to use can have a large effect on the resulting image. Part of your skill, then, needs to be selecting the most appropriate equipment for the look of the image you want to create.
Flowers, with their large variety of forms, and often bright, striking colors, can offer beautiful yet easy to find subjects for photographers. The challenge is in capturing the essence of what makes the flower so striking, to provoke an emotional response from the viewer. Hopefully by following the tips above, and of course, plenty of practice, you'll better be able to achieve this with your flower photography.