Abstract flower photos are usually created by focusing in on only a small part of a flower and / or using a very small depth of field to give the image a soft look.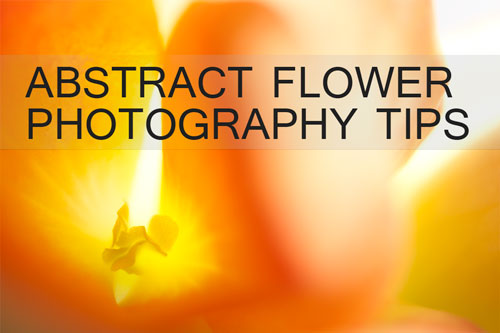 For taking abstract flower photos I would recommend using cut flowers or potted plants that you keep indoors. By taking the photos indoors you can eliminate any problems with the wind blowing the flower while you are trying to compose and focus your photo. This also gives you more control over lighting - you can use long exposures without the worrying about the wind, or set up some lights and position them as needed.
Macro flower abstracts
Some very interesting abstract flower photos can be taken when using a macro lens to focus on only a very small part of a flower. With your camera to your eye, look through the lens at the flower and slowly move the lens around the flower until you find an interesting composition.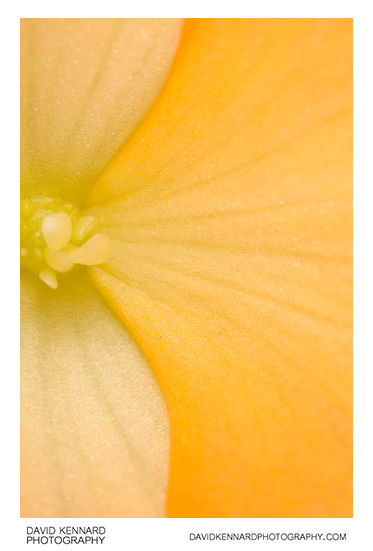 Begonia flower close-up abstract by David Kennard Photography
For gaining an increased magnification, which can be helpful for abstract flower macros, there are a number of accessories you can consider. Extension tubes or bellows can be used on a DSLR camera to move the lens away from the camera and so allow the lens to focus much closer than it can normally.



Fotodiox macro bellows




Kenko DG Auto Extension Tube Set




Raynox DCR250 Diopter lens




Fotodiox 58-58mm Macro Close-up Reverse Ring




Sigma APO Teleconverter 2x EX DG




Fotodiox 58mm Filter Thread Lens, Macro Reverse Ring Camera Mount Adapter
A diopter lens or reversed lens mounted on your normal lens will allow you to focus closer as well. A teleconverter will allow you to increase the magnification of your subject. For DSLR cameras, you can also try purchasing a reversing adapter that mounts straight onto the camera body. You then attach a reversed lens to the adapter, and can reach quite high magnifications with wide angle lenses reverse mounted this way.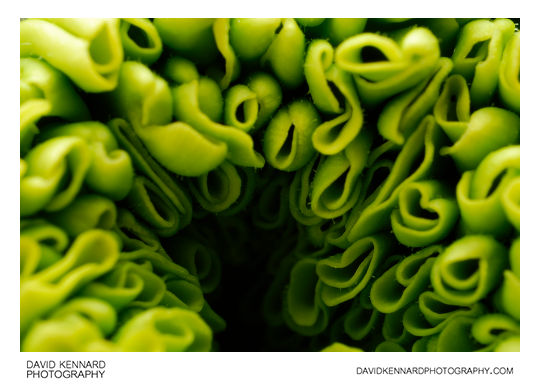 Dark doorway African Marigold abstract by David Kennard Photography - taken using a reversed 24mm lens
Generally for macro flower abstracts you will want to use a large aperture (e.g. f/2.8). By focusing on one part of the flower you ensure that one part is in sharp focus while the rest is thrown into an out of focus blur. This works best when you want to capture the shape and form of part of the flower.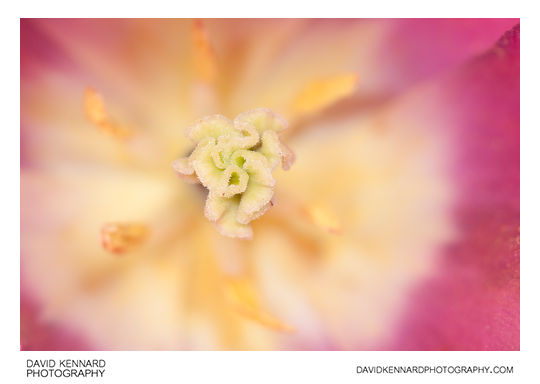 Inside a purple Tulip flower by David Kennard Photography
For some flower abstracts, you may be interested in capturing the texture of a flower or leaf. For this purpose a small aperture (such as f/8) to maximize the depth of field will be more useful.
Non-macro flower abstracts
For abstract floral photography of a full flower, try using a lens that offers selective focus, such as the Lensbaby Composer
series. This allows you to focus on part of a flower while throwing the rest of the image out of focus. This effect can also be achieved on the computer using software such onOne FocalPoint, but you will likely find it easier to compose your image when you can see the effect in the viewfinder.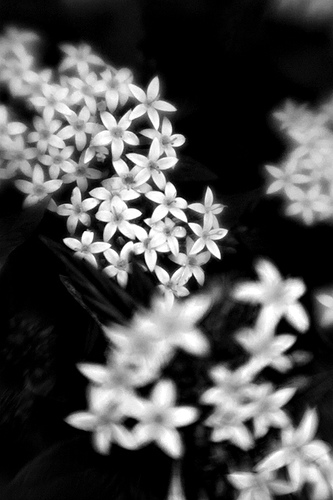 flowers by Joe Clay on flickr - taken using a lensbaby (licensed CC-BY-ND)
Also try purposefully taking photos of flowers and plants that are out of focus. This creates abstract flower photos with a soft, dreamy, painterly effect.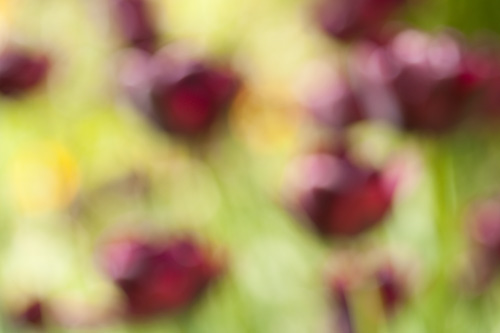 By putting the subject only slightly out of focus it will keep its shape and form, but softly merge with its surroundings.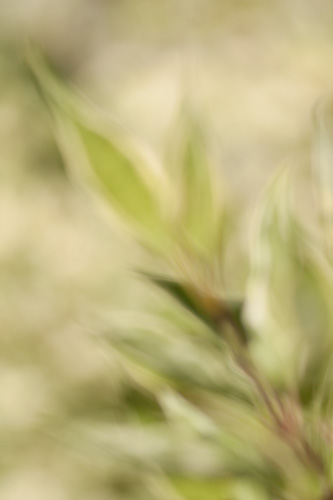 Looking for abstract compositions in flowers, you'll often find a few different compositions that work well with a single flower. While a bunch of daffodils may all look the same, if you start looking for close-up abstract compositions, you'll find that small differences in color, the way petals overlap, etc. between individual flowers can make for quite different photos.
Abstract floral photography has a couple of advantages over other types of photography:
It is easy to find subjects - even if you don't have a garden, you likely have some pot plants or cut flowers in your house. And new 'subjects' are easy to buy, either from a florists, or many other shops such as supermarkets and garages also sell flowers.
Because of the uniqueness of each flower, and the different compositions that can be found, it makes your photo more unique. You may find thousands of similar images of a daffodil flower, but it is unlikely you would find even ten similar abstract photos of a daffodil.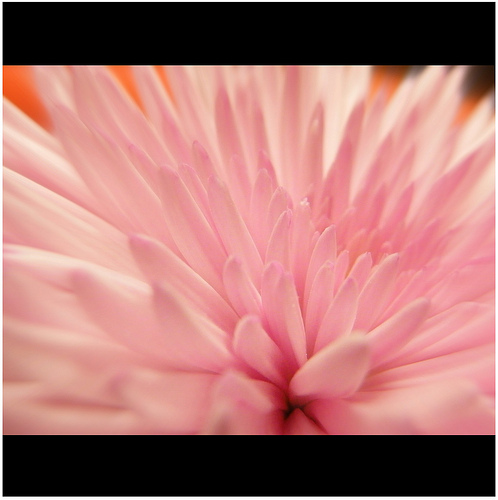 Flower : EVOLUTION : See : FEEL : Beyond : OBVIOUS! Enjoy : the TEXTURE : the lines! 🙂 by || UggBoy♥UggGirl || PHOTO... on flickr (licensed CC-BY)
Experimenting is always important with creating great photos, but particularly with abstract photography. With abstract flower photography, you can experiment with your composition, shutter speed, aperture, and also the lighting. The way your lighting creates shadows, or backlights the flower, can make quite a big difference.