A selective color photo is one where part of the image is in color, while the rest of the image is black & white (or heavily desaturated). Selective color photos work very well to draw the viewer's attention to the part of the image that is in color.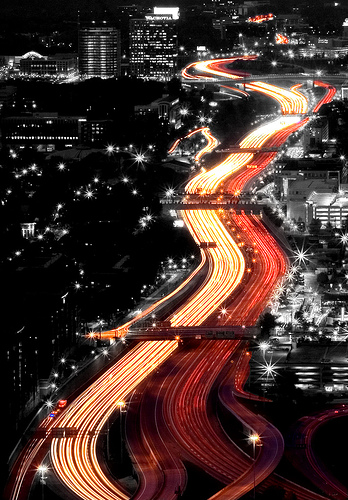 Highway Insomnia by Nrbelex on flickr (licensed CC-BY-SA)
Very often it is used to keep color just in parts of an image that are red. I can't really say why this is, but it does seem to work well with red. Red contrasts nicely against black and white. That's not to say it doesn't work well with other colors though, just that red seems to work best.
For an image to be suitable for selectively coloring, the subject that you want to be colored in the final image should be reasonably strongly colored. A strong colored subject will stand out well against a monochrome background.
The colored object or objects should also take up a reasonably large part of the frame. This makes them easy to notice, and helps them stand out.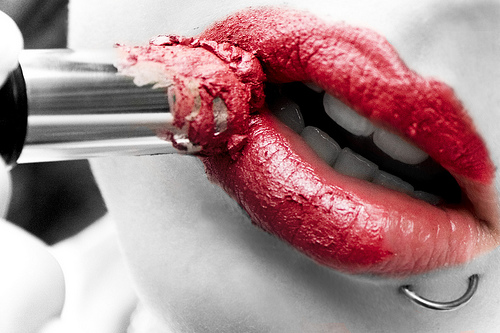 What's a Girl Gotta Do? by Natalion on flickr (licensed CC-BY-SA)
The process of creating a selective color is quite simple. Create a hue/saturation adjustment layer and reduce the saturation to zero. This gives you a black and white image. Now use the layer mask of the hue/saturation layer to mask out the effect where you want the photo to be colored. (For more information on layer masks see How to use Photoshop Layer Masks).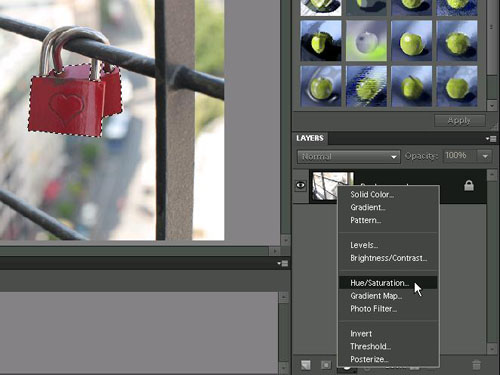 Creating a hue/saturation adjustment layer in Photoshop Elements
There are many different ways that you can create a selection of the object that should be colored. You can just paint on the layer mask using a brush. Or you can use selection tools, like the magic wand and magnetic lasso.
When using a selection tool, you will probably want to make the selection first, and then create the hue/saturation adjustment layer. Then use the selection to create the mask for the saturation adjustment. In Photoshop, if you create a hue/saturation adjustment layer, the current selection will automatically be used as the layer mask for the adjustment.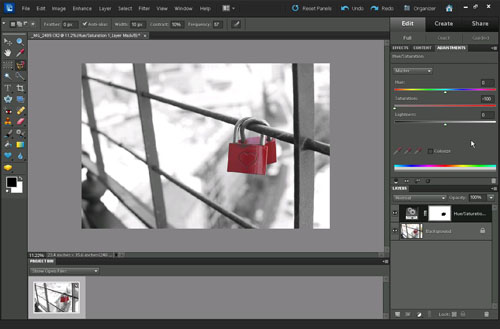 Image after creating a selection of the locks, then creating a hue/saturation adjustment layer and inverting the layer mask
Using selection tools to select an object
You can see some of the different ways of creating a selection demonstrated in the video below:
Alternatively, text descriptions of how to use the different selection tools are below:
With all these selection methods, your selection doesn't need to be perfect. After creating a layer mask based on the selection, you can easily touch up the mask to refine it.
With so many different ways of selecting the object you want to be in color, you should be able to create a mask for the hue/saturation adjustment layer okay. Sometimes you might need to invert the mask, to do this just press Ctrl + I.
Enjoy making selective color images!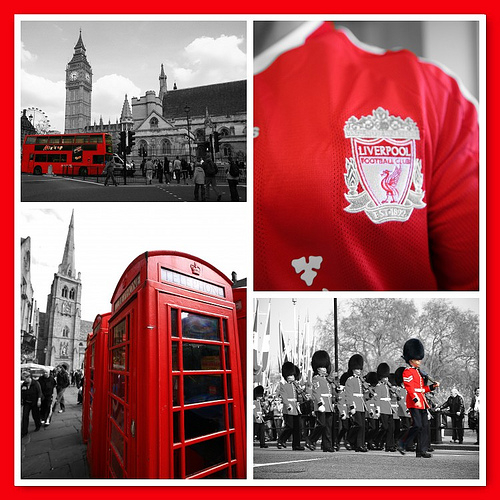 i see red by laszlo-photo on flickr (licensed CC-BY)