Capturing your photos in RAW format allows you more control over the final image. You can bring back detail in areas that would otherwise appear bright white, or lighten up dark areas to reveal detail hidden in the shadows. You can change the white balance and adjust the contrast to suit the image.
While you can make adjustments to a certain extent with a JPEG image, the larger amount of data stored in a RAW image allows you to go further and achieve a better result.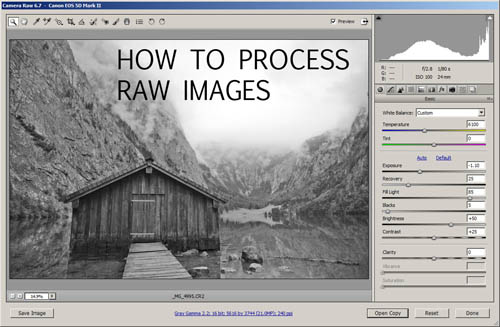 You can read more about the RAW image format and how it compares to the standard JPEG image format here: What is RAW image format? But to summarize, RAW format records all the data that the camera captured. JPEG format compresses and applies processing to the data that the camera captured. RAW allows us to apply the processing and compression later, so we can change processing settings with no loss of quality.
So, you've shot some photos in RAW format. The next step is processing the RAW file to a standard image format (typically JPEG). You can't upload RAW images to the web for people to view, they need to be converted into standard images first. To do this you need some RAW conversion software.
There are quite a few different choices of RAW conversion software. Some of the most popular ones are:
ACR, included as part of Photoshop, a basic version is also included with Photoshop Elements
Lightroom
Each RAW conversion software offers slightly different features and a different way of processing images. You can always download free trials of the software, try running some of your images through each of them, and see which one offers the best results, features, and ease of use for your needs.
Generally there are certain tools that are available in all RAW conversion software. So, for this article I want to look at the standard sorts of adjustments you might want to apply to your RAW images.
As you can see, there are a large range of different adjustments you can make to your images when converting RAW files. And there are plenty of other adjustments many RAW conversion programs offer that I haven't covered.
The benefit of RAW is that you can make fine adjustments suited to each image, or you can just batch process all your images in one go using the default settings. You can easily go back to a RAW file and change some, or all of the settings.
If your camera supports RAW format, why not give it a try and see if you enjoy the extra options it opens up.