For sports enthusiasts, there's nothing more exciting than sports people playing their favourite game. The sight of the field, rink or golf course initiates the thrill and anticipation. This, combined with digital photography, can provide some amazing photographic opportunities. However it's not a matter of point the camera at the person diving for the ball or puck and snapping away. It's a lot more complicated than that.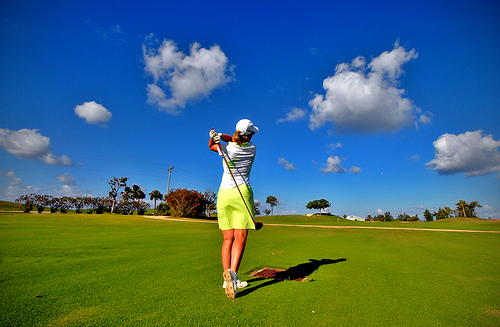 Grand Cayman Golf by Fevi in Pictures on flickr (licensed CC-BY)
In digital photography sports can be quite challenging. The sports people do not present an easy task of being photographed because of the amount of high movement. However, you can indeed achieve great sports digital photography. Most excellent sports digital photography requires good planning and execution.

Sport and Action (World's Top Photographers Workshops)
Here are some exclusive tips for gaining fantastic sports shots in your digital photography.
First things first; know your digital camera. I recommend taking note and practicing first all the settings that sports photography needed. You may find yourself going for the faster shutter speed, increased ISO and burst mode. Let's take a look at all these things on your digital camera and see how they can be applied to give you sensational sports photos.
Don't just look at these digital photos, you must study them. Take on the attitude that studying sports photography will improve your digital sports photos ten fold. You will have a style to emulate and copy to start with then eventually, when you become confident, you'll start to adopt your own style.
Happy shooting,

Amy Renfrey
To study digital sports photography check these sites out: www.espn.com, sports illustrated, and cbs.sportsline.com