Flash gels are thin pieces of colored plastic that you can place over your flashgun, studio strobe, or any other artificial light source to modify the color of the light. (Actually they don't always have to be colored - we'll look at some neutral flash gels at the end of the article).
The reason they are known as gels is because they were originally made from gelatin. Plastic is a lot more long lasting, cheaper, and easier to use, so you're unlikely to find any flash gels still made from actual gelatin today. In this article we'll look at how you can use flash gels for balancing flash with ambient light, creative use of gels for colored lighting effects, how they can be used for reducing the light power, and creating softer lighting.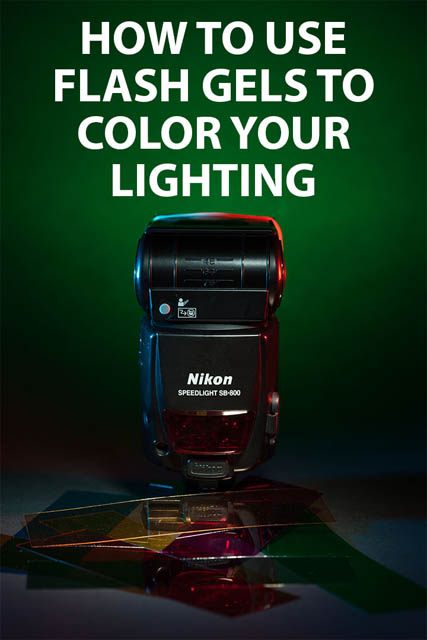 Lighting gels come in a wide range of sizes. You can buy small pieces designed to cover the end of a speedlight flash. Or you can buy large sheets designed for use with theater lights.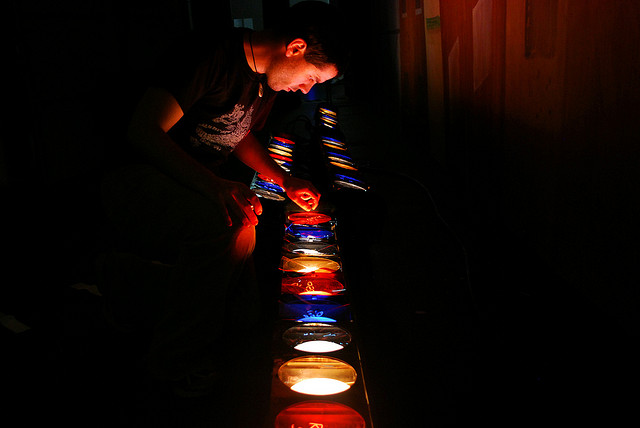 y2.d2 | tech week by Bryan Rosengrant on Flickr (licensed CC-BY-ND)
There are many sellers that sell a kit of various colors in sizes suitable for use with speedlight flashguns, and I would recommend purchasing one of these for most photographers. These kits are quite cheap and give you the most common colors you're likely to want. And all in the correct size for a flash, so you don't have to spend time cutting down larger filters.
There are a wide range of manufacturers making lighting gels. The largest two are probably Lee (who also make photographic filters) and Rosco. There are plenty of unbranded gels available too, but the kits made from Rosco or Lee filters tend to be very reasonably priced as well as being good quality.
Gels are very useful for flash photography, whether it's for balancing flash with ambient light to create a natural looking image, or purposefully using colored lighting for creative effect. Packs of gels for speedlight flashes can be purchased very cheaply, so if you have a flash, why not pick up some gels and see what you can create.
3 Responses to "How to use flash gels to color your lighting"