Sometimes you might read advice about using the ProPhoto RGB color space for editing. Or to make sure you convert your image to the sRGB color space before posting an image on the web.
But what's the difference between these color spaces, and why does it matter what color space an image has? How do you change the color space of an image? That's what we'll look at in this article.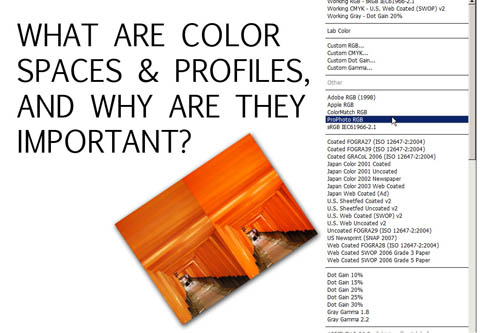 First things first, there are 3 aspects involved with displaying color from a digital image. The first is the color model, this is a mathematical model that describes how color can be represented as numbers (data).
There are different color models, such as CMYK (used for printing), LAB (used for converting from one color model or space to another, sometimes used for editing), and RGB. RGB is the most common color model, used for editing images and displaying images.
Although your Lab or printer may print using CMYK, they will normally want your image in an RGB color space as well (then they will convert the image to CMYK upon printing). So, for this article we'll just be looking at the RGB color model.
Within a color model, you then have color spaces. These describe a specific implementation of how the data should be mapped to colors, based on the color model. There are a lot of different color spaces that use the RGB color model, the main ones being sRGB, AdobeRGB, and ProPhoto RGB. We'll look at these in more detail shortly.
Lastly, we have the color profile. In the case of images, the color profile is usually just the color space, embedded within the image. This way, your computer (or any other device) can tell what color space the image was saved with, and how the image data should be represented as colors on screen.
As well as color profiles embedded in images, we also have output profiles for devices, such as your monitor or printer. These describe the way that the colors will be mapped to those can be displayed by the output device. In the case of a printer you may have multiple profiles, based on the different combinations of inks and paper that can be used.
In the case of displaying an image on your screen, your computer reads the color profile of the image, and then maps the data into the LAB color space. From there, it then maps the colors to what your monitor can display, using your monitor's color profile.
To sum up:
A larger color space allows for your image to contain a larger range of colors.
Most monitors have a small color space, so you won't be able to appreciate the larger range of colors. You will likely be able to see a difference in print though (and possibly on screen in the future as monitor technology develops). Some monitors available today already cover the Adobe RGB color space.
When displaying an image on the web you should convert the image to the sRGB color space, otherwise your image may display with muted colors.
Calibrating your monitor (and printer if you print at home), then soft proofing before printing will avoid problems where the color in prints comes out differently to on screen.
If you get your photos printed at a lab, check if they advise what color space they expect photos to be in. (Then convert your images to that color space if necessary before sending them to be printed).