onOne software has today announced free versions of their Perfect Layers and Perfect Effects software. This software could be quite helpful to some photographers, so I thought I'd let you know about it, particularly now it is free.
Perfect Layers 2 Free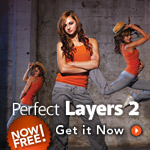 Perfect Layers 2 can be used to create composite images with layer masks. It could be a handy addition to your software toolkit if you use software like Lightroom, which doesn't support layers. From onOne:
Perfect Layers 2 is now available for free, giving every photographer the ability to create the images they envision with easy-to-use tools designed for their needs and workflow. Create layered files with images directly from Lightroom, Aperture, or by using Perfect Layers as a standalone application. Get endless creative options by combining images to blend exposures, creating layer masks, building composites, and more.
This brief video gives you an idea of how Perfect layers can be used:
Perfect Effects 3 Free
Perfect Effects 3 free allows you to apply a range of effects to your photos to create dramatic improvements quickly and easily. From onOne:
Perfect Effects 3 Free is a great way to add a heavy dose of excitement or a subtle amount of elegance to your photos. Based on the full-featured Perfect Effects 3, this free version includes over two dozen effects that will enhance and stylize your photos.

Get live previews of each effect along with the ability to adjust the strength and where the effect is placed on your photo. Perfect Effects 3 Free can be used as a plug-in directly within Photoshop, Photoshop Elements, Lightroom or Aperture. You can even use Perfect Effects 3 Free on its own as a standalone application and get more effects from the onOne Marketplace.
Here's a video that shows the full version of Perfect Effects 3 in use. With the free edition you don't get quite so many different effects to choose from, but it should still give you a good idea of how the software works:
Presumably the reasoning behind onOne giving versions of Perfect Layers and Perfect Effects away for free is that they hope you'll upgrade to the full version of Perfect Effects 3, or purchase some of their other software once you've experienced how good it is. Anyway, I think this software is worth downloading and trying out, particularly the Perfect Layers software if you are currently using photo editing software that doesn't support layers.