onOne software has today announced free versions of their Perfect Layers and Perfect Effects software. This software could be quite helpful to some photographers, so I thought I'd let you know about it, particularly now it is free.
Perfect Layers 2 Free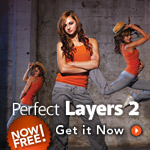 Perfect Layers 2 can be used to create composite images with layer masks. It could be a handy addition to your software toolkit if you use software like Lightroom, which doesn't support layers. From onOne:
Perfect Layers 2 is now available for free, giving every photographer the ability to create the images they envision with easy-to-use tools designed for their needs and workflow. Create layered files with images directly from Lightroom, Aperture, or by using Perfect Layers as a standalone application. Get endless creative options by combining images to blend exposures, creating layer masks, building composites, and more.
This brief video gives you an idea of how Perfect layers can be used:
Read the rest of this entry »