Photographing reflections can be a great way to add interest to your images. When you have a shot of both a subject and their reflection, it helps emphasize the subject. In some cases you might want to make the reflection itself a subject. And reflections can also work well for abstract photography.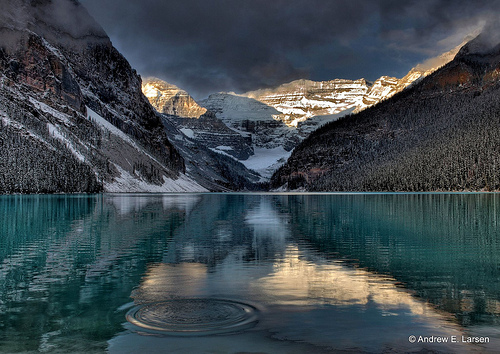 Dynamic Serenity by papalars on flickr (licensed CC-BY-ND)
When we think of reflections in photography, we normally think of reflections in water, probably in a lake, such as the above photo. But there are a large variety of different surfaces that give reflections. Puddles, mirrors, glass, polished metal, plastic, ceramic tiles, and varnished wood can all give good reflections.
When wet, other surfaces such as tarmac and sand can become reflective too. These surfaces likely won't reflect a perfect mirror image, but they do reflect enough light for a nice reflection photo. City streets at night after rain reflect the colors from shop windows and lit up signs.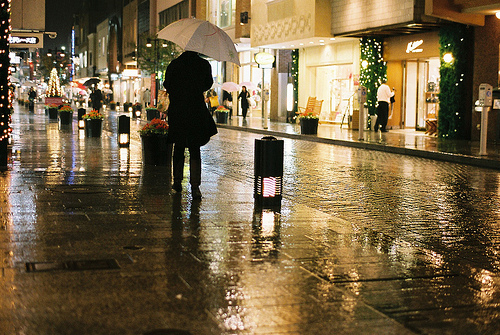 FM2_Motomachi_20111119_09 by Jun Takeuchi on flickr (licensed CC-BY)
Wet sand does not typically reflect as well as smoother surfaces, though it depends on how wet the sand is. It can work very well for reflecting the colors of sunrise and sunset.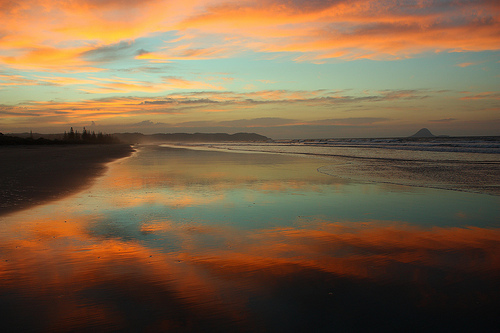 This was one beautiful Sunset tonight at Ohope Beach, New Zealand by Quiltsalad on flickr (licensed CC-BY)
As always with digital photography, don't be afraid to have fun and experiment when photographing reflections.