Improving the results of your photography is much easier if you have a plan. Sure, you can grab your camera and get lots of practice without a real plan and you'll no doubt learn some things from the experience.
But if you know where to focus your efforts and the specific types of things that you can work on, your progress can happen much faster. In this article we'll take a look at 10 things you can do if you're interested in improving your own photography skills.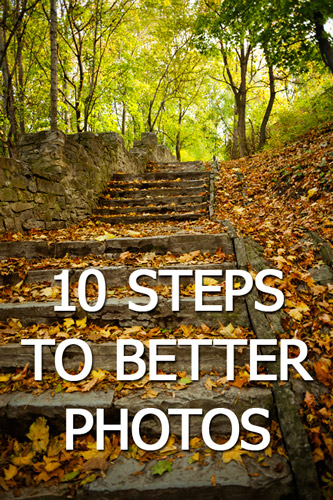 1. Learn Exposure Principles
In order to maximize the quality of your photography you'll need to master the basics of exposure, if you haven't already. While it's true that you can make adjustments to exposure during post processing, it's preferable to get it right when taking the shot. You can't always get prefect results when adjusting the exposure during post processing, not to mention that you will save loads of time by getting it right at the time of the shot.
The exposure triangle consists of ISO, shutter speed, and aperture. In order to expose your photos properly you'll need to understand the concept of the triangle and each of these 3 factors. For a more detailed explanation see Learning About Exposure - The Exposure Triangle.
2. Give Yourself an Assignment
If you're interested in challenging yourself and pushing to learn new things, consider giving yourself assignments whenever you're working on your photography. With an assignment you're really just helping yourself to stay focused, which is a great way to improve your skills.
For example, rather than just going out with your camera to the park you could give yourself the assignment of photographing the flowers at the park. The assignments can involve any aspect or any type of photography that you would like to improve upon. You could set out to capture sunset photos, take candid shots of strangers, restrict yourself to using a particular lens, photograph buildings in the city, take long exposure shots after dusk, or just about anything you can think of.
If you regularly take on the challenge of different assignments you can learn rather quickly through the experience. If you're looking for some ideas, see this 30 Day Photography Challenge .
3. Pay Attention to Lighting
Lighting is no doubt one of the most important elements for photography. The same scene shot in two different types of light can look drastically different.
One of the most effective ways to take better photos is simply to shoot with better lighting. If you're shooting outdoors you'll want to consider taking advantage of the golden hours and (usually) avoiding harsh mid-day lighting. If you're indoors you may want to find a way to get more natural light, like shooting near a window, or place more emphasis on your studio lighting setup. This article on studio lighting setups can be helpful.
4. Shoot in Manual Mode
If you're shooting in auto you'll want to move to manual mode in order to get the best results. Shutter priority and aperture priority are also good options, and they can be especially helpful if you're overwhelmed by the thought of going to full manual mode. In auto mode your camera may get it right sometimes, but to take your photography to the next level you'll need to take more control than is possible in auto.
5. Take Fewer Photos
This may sound counterintuitive, but there is good reason for it. This point is not that you should photograph less frequently, but when you are shooting you should be more selective with the photos you take.
By taking a huge number of photos you may fall into the spray-and-pray mentality, whether it is intentional or not. Rather than taking countless photos of the same subject or scene, be more selective with the photos that you take and it can force you to take your time and improve the quality of those shots. Another major benefit is that it makes your post processing much easier and less time consuming. It's easier to identify your best photos and you won't get overwhelmed by needing to edit hundreds of photos at a time.
6. Create Interesting Compositions
Rather than just photographing a subject that you want to capture, place an emphasis on creating outstanding compositions. Typical "rules" like the rule of thirds and the golden ration can help. Aside from the standard rules that are commonly followed, try things like using interesting perspectives and angles, as well as making use of leading lines and vanishing points.
7. Learn Post Processing Basics
Most photographers would rather spend their time actually taking photos as opposed to sitting at the computer in Lightroom or Photoshop. However, with digital photography, especially if you are shooting in RAW files, at least some degree of post processing is necessary. It's important to learn the basics well so you can work efficiently and effectively, leaving plenty of time for the more enjoyable aspects of photography.
8. Seek Feedback and Critiques
Part of improving involves getting feedback from others. Of course, you can always ask friends and family to give some feedback on your photos, but if you want specific critiques you may need to seek feedback from other photographers.
Sites like Focussion exist specifically for the purpose of constructive feedback. Most popular photography forums, like Digital Photography School and Photo.net also have specific forums for requesting critiques and feedback. You can also find some photography blogs that post photos for critiques, but most of these blogs don't publish a lot of these types of posts, so it may be difficult to get your photo posted.
9. Identify Your Weaknesses
Improving is much easier when you know what specific areas of your photography need the most improvement. Take a critical look at your work and your experience and find a few areas where you are either weak or where you would simply like to focus your improvement.
You can use these weaknesses when setting assignments for yourself (as mentioned in point #2) and work towards improving in these areas.
10. Always Keep Learning and Improving
It doesn't matter how much experience you gain as a photographer, continual growth and development is always important. Take the time to experiment, try new things, and emphasize your continual improvement going forward.
9 Responses to "10 Steps to Better Photos"