Interesting clouds can make all the difference to a great landscape photo. But have you ever thought about making the clouds your main subject?
Clouds come in a wide variety of types, and are always shifting and moving. You don't need to travel to get nice cloud shots. You can take cloud photos from the same location at the same time every day, and still end up with a good varied selection of shots.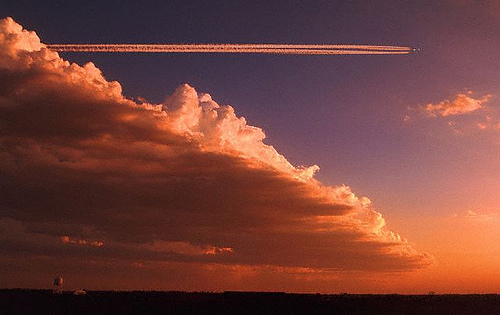 clouds by Zest-pk on flickr (licensed CC-BY)
For cloud photography, it obviously helps when there are clouds in the sky. The only clouds that don't work very well for cloud photography is when the sky is overcast with a flat monotone gray color and no texture.
When photographing clouds, try not to clip the white highlights of the clouds to pure white. Most cameras have a highlight clipping warning option that will blink black where highlights have been blown out. You can use this to check whether the image is overexposed. If so, dial in some negative exposure compensation and take another shot.
So next time you are out on a cloudy day, don't forget to look up. Clouds can make for beautiful abstract compositions by themselves, as well as adding to the wonder of a landscape.