Improving your photography can seem like a long and complicated process, but anyone with enough passion can become a great photographer. The same as any other skill or hobby, photography will take some time to master, but the rewards can be great. The following tips should help you on your journey as an amateur photographer:
You don't need expensive equipment
Buying expensive equipment doesn't automatically make you a better photographer. A common mistake made by amateur photographers is to spend a lot of money on equipment they don't actually need and will hardly ever use.
The only thing you really need when starting out is a camera. Once you get used to using the camera, you can then figure out what it is you actually need. Any photography gear you purchase should be dictated by the type of photography you do and the way you like to shoot. For example, many articles suggest using a tripod, but if you like shooting people handheld in the street, you would never need a tripod.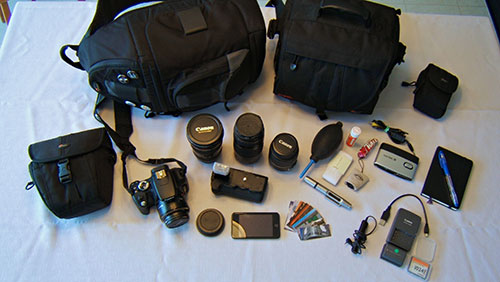 what's in your photo kit? by D'Arcy Norman on flickr (licensed CC-BY-NC)
If you are not sure whether you need a piece of equipment, joining a local photography club is a good idea. Here you can meet up with many other photographers, and sometimes go out on shoots together. In most cases a fellow photographer will be happy to lend you a piece of equipment so that you can see if it fits your needs.
Read the rest of this entry »