In recent years, the choice in camera models has become much greater, with some completely new types of camera being released. With all the different types of camera, and the different names used to describe them, it can be a bit confusing. In the next series of articles I'll try and clear this up a bit, as well as listing the advantages and disadvantages of each type.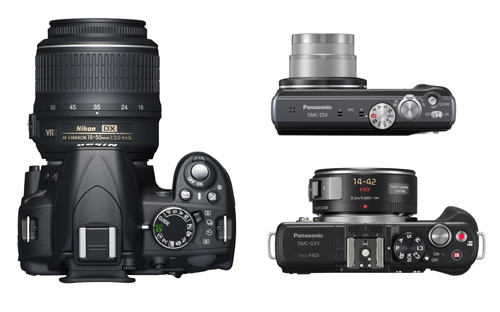 This composite photo shows the relative scale of a Nikon D3100 DSLR (left), Panasonic GX1 MILC (bottom right), and Panasonic ZS9 Compact camera (top right).
MILCs
MILC stands for Mirrorless Interchangeable Lens Camera, and they are a cross between a compact camera and an SLR. MILCs (with the exception of the Pentax Q and Nikon 1 models) feature the large sensor and ability to change lenses of a DSLR camera, while lacking the DSLR's mirror, which allows a much smaller body size.
They are also known as Mirrorless cameras, ILCs (Interchangeable Lens Compacts), EVIL (Electronic Viewfinder Interchangeable Lens) and CSCs (Compact System Cameras). As these types of cameras are relatively new, a standard name has not yet won out in terms of usage.
Read the rest of this entry »