It's easy to dismiss our iPhone (or mobile phone) cameras, after all they are hidden in plain sight and right there every time we "slide to unlock" our phones. So you can't take any "real" pictures with them, right? Perhaps you're one of the many photographers who thinks that it's not a "real" camera and that, to get the best images photographically you really need to lug around a giant DSLR complete with all of the lenses you can fit into your pack. Even Ansel Adams had to use a mule to carry his camera gear at one point, right? So how could something some small and easy to use actually take acceptable images?
Well, iPhone cameras, photography, and optics in general, have changed over the years. Gone are the days of needing large camera equipment – camera manufacturers and modern optics have dictated that we are now doing more with less. Combine that with the notion that a seasoned photographer will know how to make best use of equipment, whatever equipment he or she has available, and you have a recipe for some great images.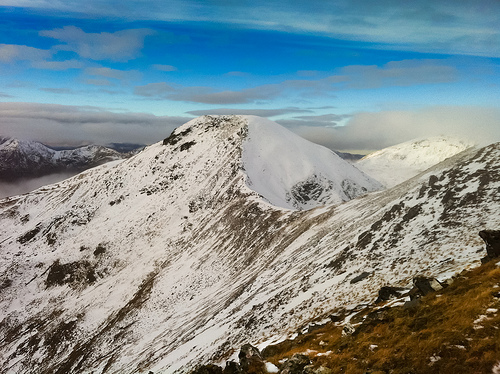 Aonach Meadhoin, Glen Shiel by flatworldsedge on flickr (licensed CC-BY-SA)
Sure, it's great to have a DSLR available, and most iPhone photographers will still have one at their disposal, but that doesn't mean you can't also take some great images and make some lasting artwork with your new little buddy, the iPhone camera.
Read the rest of this entry »