Geotagging (also known as geocoding or geoencoding) your photos allows you to view your photos on a map and see where they were taken. There are also a variety of photo sharing services that allow you to add geotagged photos, so that others can see exactly where your photos were taken as well.
This can be a great idea with photos taken out on a walk, or while on vacation. It also works well with photos of wildlife and flowers, allowing you to see where and what sort of habitat the photo was taken in from the map.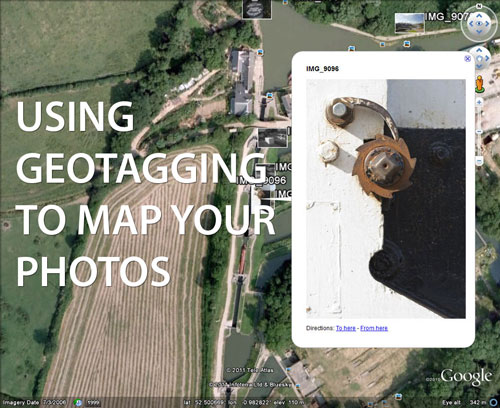 It is probably not a good idea to geotag photos taken in your own home though, particularly if you are sharing them with everyone over the internet. This would allow anyone to see where you live, generally not something you want.
How to Geotag your photos
There are a number of different ways that you can geotag your photos. You can either do the geotagging at the point the photo was captured (if it is supported by your camera model), or otherwise you can use software to geotag your photos later on the computer.
Cameras with a built-in GPS
Some cameras come with a built-in GPS system to automatically geotag all your photos as you take them. It is just a matter of making sure that geotagging is enabled in the camera settings.
Examples of cameras with built-in GPS include the
,
,
,
, and various other camera models as well.
Cameras with GPS accessories available
External GPS units are available to automatically geotag your photos for some cameras. The majority of DSLR cameras have accessories available to allow this, but most compact cameras do not.
The different camera manufacturers have proprietary connections for the GPS units, so you would to purchase a unit designed to work with your camera. For example, Nikon produces the Nikon GP-1, Pentax has the Pentax GPS Unit O-GPS1, and there are various third party units as well. These generally mount in the camera's hot-shoe and have a small lead that plugs into a connection socket on the camera.
For some Canon DSLR cameras you can use their GP-E2 GPS unit. For some of their older models you need to use their Wi-fi grip accessory and an external GPS unit to geotag photos in-camera instead.
GPS tracklog + software
An alternative to purchasing a camera with built-in GPS or a specialist GPS accessory for your camera, is to use a standard GPS unit, and record a tracklog. Standard GPS units can be purchased for less than the camera specific GPS accessories, and depending on the model, can also be used to aid navigation. This method of geotagging will work with any camera.
You set the GPS unit to record a tracklog and make sure that your GPS and camera are both set to the same time. As you walk around, the GPS keeps a log of where you've been.
Then you can later use some software to geotag all your photos from the tracklog. By comparing the time of each photo to the timepoints recorded in the tracklog, the software can work out where along the tracklog the photo was taken.
This is why it is important to make sure the time on your GPS and camera are in sync. If they're not in sync you can get round this by applying a time offset when geotagging the images, but it's easier to just have them in sync in the first place.
The tracklog can also be viewed on the map to see exactly where you've been.
Manual geotagging using software
Lastly, you can also geotag your photos on your computer using geotagging software. This allows you to pick where a photo was taken, usually using Google Maps or Google Earth, then save the location data into the photo.
Geotagging software
There is a variety of software you can use to geotag your photos, either using a GPS tracklog, or geotagging the photos manually. There are too many different software packages to cover individually, but below are some of the more popular ones.
Viewing and sharing your geotagged photos
Some of the above software allows you to create KML files that allow you to easily view your photos in Google Earth, or create a webpage containing a Google Map that shows your photos.
There are numerous photo sharing websites, and some of these will automatically read in the geo-location saved in your photo's metadata when you upload a photo to them. Two of the most popular are Flickr and Panoramio.
Flickr allows you to view your uploaded geotagged photos using Yahoo! Maps. You can choose who can see the location of each photo, so if you choose 'Your friends and family', then only they will be able to see where the photo was taken. There are a number of options, ranging from 'Only you' to 'Anyone'.
If you have it set to 'Anyone', then other people browsing Flickr by location and using the map will be able to see your geotagged photos when looking at the area where the photos were taken.
Panoramio is a photo sharing website specifically dedicated to sharing geotagged photos. It is owned by Google, and geotagged photos uploaded to Panoramio will often show up in the Photos layer that is enabled by default in Google Earth and can be enabled in Google Maps. This may take some time though as the updates to Google Earth are not immediate, but it can be a good way to get your photos seen by more people.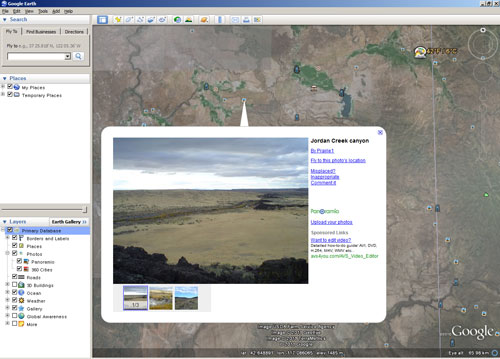 Geotagged photos uploaded to Panoramio in Google Earth
You can also browse your (and other's) photos using Google Maps on the Panoramio website. And you can download a KML file of only your photos for browsing them in Google Earth.
Being able to see where your photos were taken, particularly when looking back at your photos a few years in the future, can add another dimension to viewing your photos. In addition, uploading your geotagged photos to photo sharing services can enlarge the audience for your photos, since it enables the photos to be seen by people browsing photos via the map view.
Although there may be some cost if you don't already have a GPS unit or compatible camera, it can be well worth it if you take photos out a lot or are planning a photo-heavy holiday.
3 Responses to "Using Geotagging to map your photos"