Street photography involves capturing the everyday life around us, usually people, but sometimes also buildings and vehicles. It is especially popular in cities, given the large amount of subject matter available for street photography there.
When practicing street photography, it is best to get to know the areas where you are shooting, rather than visiting a different area every day. Typically the best areas are those with lots of people, for example, city centers and locations near bus and train stations work well.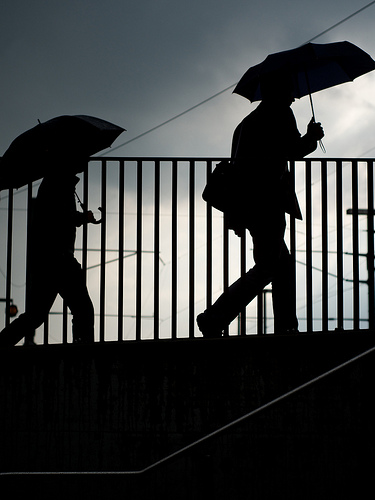 Rainy Rush Hour... by 85mm.ch on flickr (licensed CC-BY)
Be careful of taking photos of people having arguments, fighting etc. Although these shots can make good photos, often the risk of them turning their anger against you is not worth the trouble.
Be quick, have your camera ready, set to the correct settings, and ready to bring up to your eye. If you can, have the focus pre-set as well. This helps you capture fleeting moments that you notice quickly.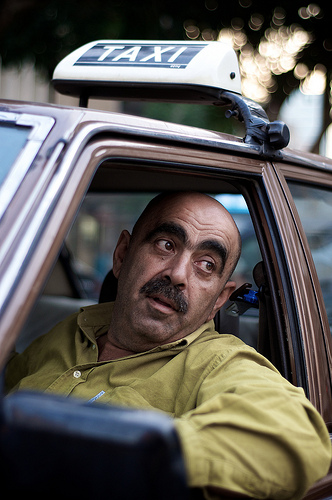 Mr. Cab Driver [Explored] by 85mm.ch on flickr (licensed CC-BY)
You are also less likely to draw attention to yourself if take the shot quickly. If you take too long looking through the camera at the subject while you focus and get the settings just right, the subject may notice you and spoil the candid moment you intended to capture.
Act confidently, there is nothing wrong with taking photos of people on the streets. If you act nervously people might think you are nervous because you didn't want to be caught taking their photo, and are more likely to be confrontational.
If someone notices you taking a photo, just smile at them. The majority of people do not mind having their photo taken. If someone is annoyed at having their photo taken, just apologize and delete the photo. There will be plenty more subjects and situations you can capture, no point in escalating the situation.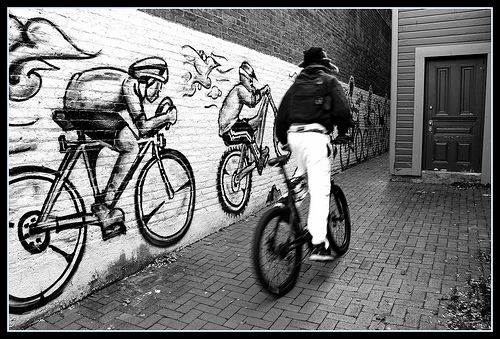 Bicycle Race by Tony Fischer Photography on flickr (licensed CC-BY)
For street photography compact cameras can be better than bulky DSLRs. A compact camera is smaller, and draws less attention to you. Many compact cameras have electronic shutters, which are silent. Again, this draws less attention to you.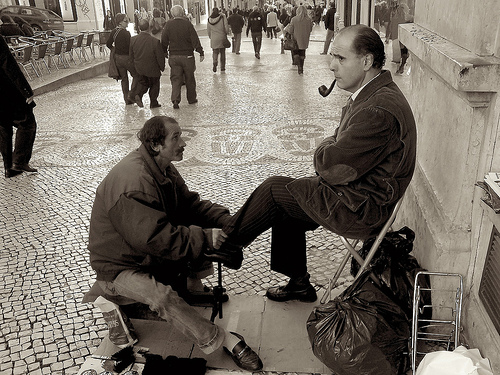 shoes and pipe by carboila on flickr (licensed CC-BY)
The small sensor used in most compact cameras gives a larger depth of field for a given aperture. This means that if you pre-focus and take a quick shot where the focus is slightly out, the depth of field on a compact camera will be more forgiving than that of a larger sensored camera such as a DSLR.
To avoid standing out, don't wear bright clothes.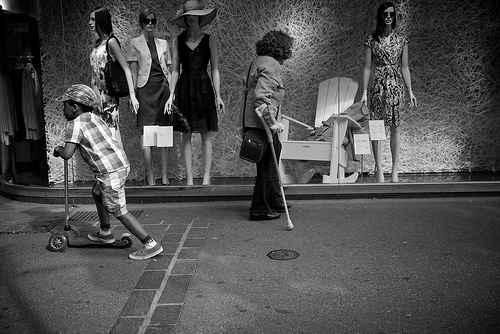 Age-based Mobility... by 85mm.ch on flickr (licensed CC-BY)
Look for interesting juxtapositions, both between different people, and people and their surroundings.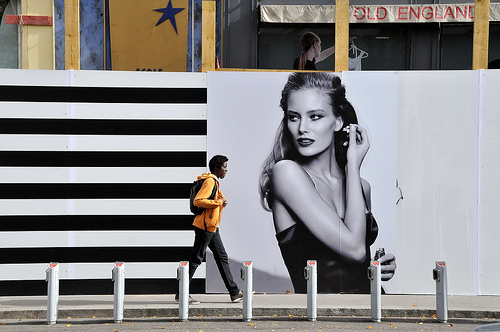 Place de la République Lyon by FaceMePLS on flickr (licensed CC-BY)
Large posters on walls and in shop windows can work particularly well for this. Sometimes it might be a case of finding a good background and then waiting for the right person to walk into the frame before taking the shot.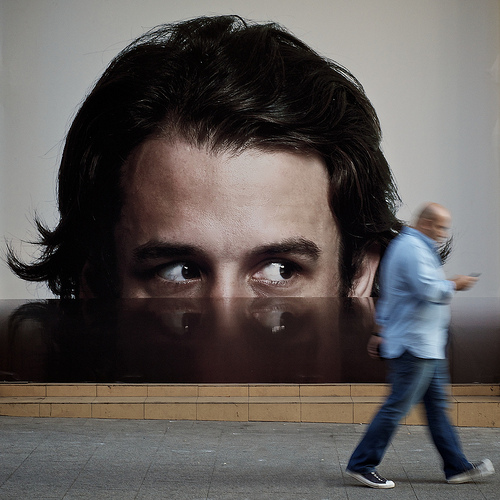 Big Brother... by 85mm.ch on flickr (licensed CC-BY)
When you see an interesting character or scene, don't necessarily just take one shot and then leave. Hang around, watch the scene develop, and see if any better shots present themselves. If you follow someone in the hope that they will move into a more interesting scene, be careful not to intrude too much.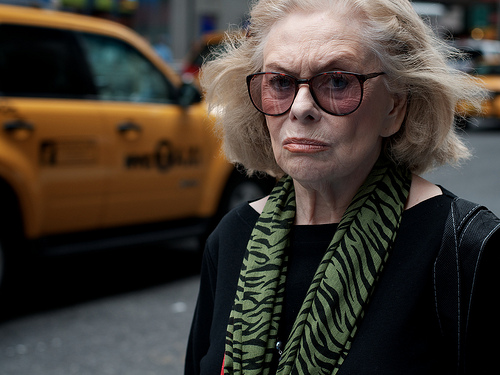 ... by 85mm.ch on flickr (licensed CC-BY)
Most street photography is aiming to capture an authentic moment, with candid subjects. However, photos where the subject does notice you can also work well. Capturing the expression on the subject's face and the eye contact with the viewer is what makes this sort of photo work.