At Christmas time many houses, shops, and town centers are decked out in Christmas lights and decorations. These can make for great photos at night. Because the lights are relatively dim (compared to sunlight), you will need to use a high ISO if shooting handheld, or preferably mount your camera on a tripod.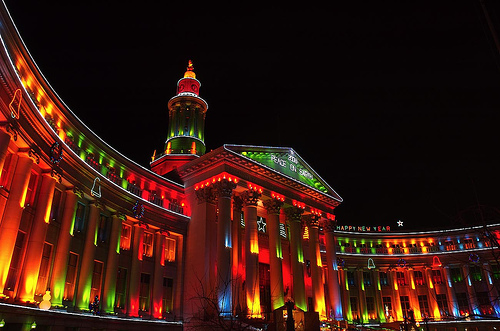 Merry Christmas from Denver, Colorado by Thad Roan - Bridgepix on flickr (licensed CC-BY)
Christmas lights can also make a great background. When rendered out of focus, the lights turn into colored circles of light. Set your camera to use a shallow aperture, such as f/2.8, and have your subject a reasonable distance from the lights. Focus on your subject, and the shallow depth of field will turn the points of light into beautiful circles of color.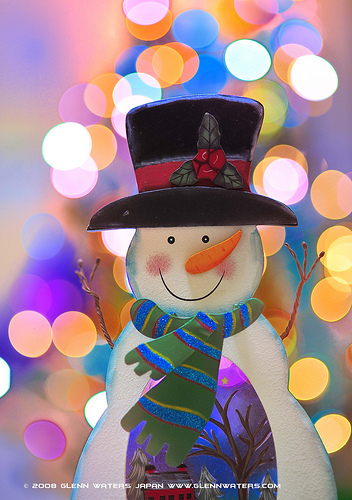 Snowman Bokeh (Explored) 8,500 visits to this photo. Thank you. by Glenn Waters ぐれん AWAY on flickr (licensed CC-BY)
If you have a camera with a large image sensor, such as a DSLR, and a fast lens, like a 50mm f/1.8 lens, you can also have fun with Christmas lights by creating a custom aperture. This is just a case of cutting a small shape into a piece of card, and then placing the card over the end of the lens. Set the aperture setting on the camera wide open e.g. f/1.8, and take a photo with out of focus lights in the background.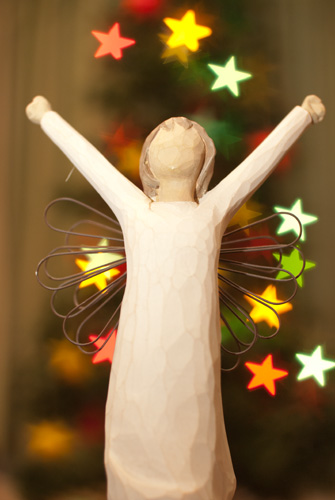 Photo taken using star shape custom aperture
In the resulting photo you'll find that the out of focus highlights now resemble your custom aperture, rather than the circular aperture of the lens. A fun and easy way to get some creative and different shots.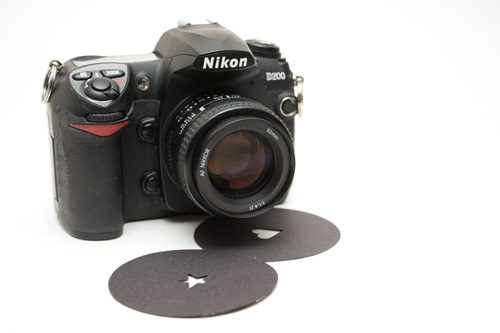 Camera with custom aperture cards
For photos of the Christmas tree itself, or a room decked out with Christmas decorations, turn the lights off in the room. This makes it so the room is only lit by the Christmas lights, which gives the photo a much better atmosphere. Due to the long exposure needed for this shot, you'll need to place the camera on a tripod or some other form of support to avoid camera shake.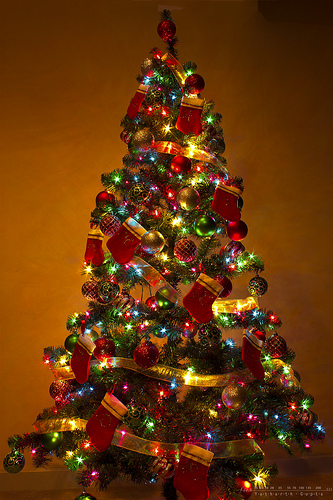 Our Tree by Yathárth on flickr (licensed CC-BY)
Capture the enjoyment of your children or grandchildren over Christmas, particularly opening presents on Christmas day. Get down on eye level with them for more engaging photos. Take lots of photos of them so they get used to the camera and are less likely to pose or shy away. This will help you capture more candid moments. Though photos of a child posing or being shy can be quite cute, you don't want all your photos looking the same.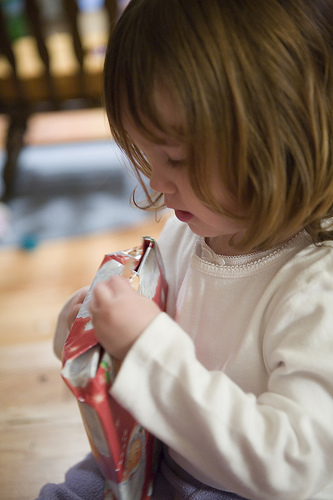 Libby opens a present by AndrewEick on flickr (licensed CC-BY)
For photographing people indoors you will likely need to use some flash as indoor lighting can be quite dim. If you have a camera that accepts external flash units, it is a good idea to use a flash with a swivel-head that can be pointed towards a wall or ceiling. By bouncing the flash off a large object (like a wall or ceiling), the light becomes diffused and much more natural looking.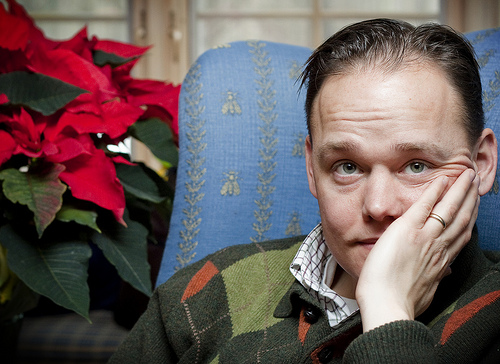 Jake by JSmith Photo on flickr (licensed CC-BY-ND)
If your camera only has a built-in flash, you can still diffuse the flash by using a piece of white paper or a kitchen towel. See this article for more information and examples: Flash Photography tips – How to avoid your camera's flash over-exposing.
During winter in the northern hemisphere, the sun spends much of the day relatively low in the sky. This gives us a nice warm light during most of the day, great for landscape photography and portraiture outside. For photos that include a lot of snow in the frame, remember that the bright white color may trick your camera's exposure meter, so you'll probably need to apply some positive exposure compensation.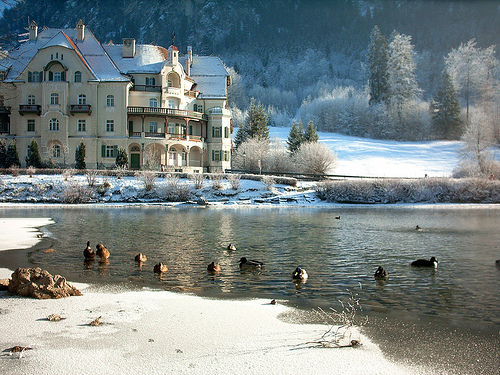 Hotel on the Alpsee (Alp lake) near Füssen by Axel-D on flickr (licensed CC-BY)
For portraits where you are shooting against the sun, or if you are getting harsh shadows on your subject's face from the sun, a bit of fill-flash can help. Since the sunlight at this time of year is quite warm in color (due to the low angle of the sun), it can be a good idea to gel your flash. This just means using an orange colored piece of thin plastic to warm up the color temperature of the flash to match that of the sunlight. This results in more natural looking images.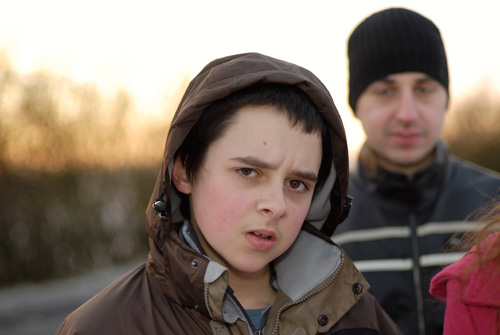 If you don't have a flash gel, you can try using an orange wrapper from those chocolates we often have selection tins of at this time year. You may find that the orange color is too strong to match the flash to sunlight. If so, never mind - you can still take some creative photos by using the different colored cellophane wrappers on your flash to create different effects.
There are lots of nice detail shots you can make at Christmas as well. Consider things such as baubles and other decorations on the tree, and also the special food we have at this time of year.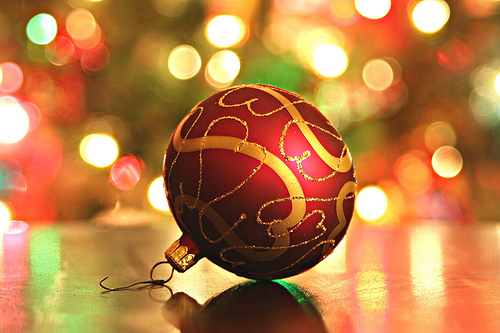 Ornament by John-Morgan on flickr (licensed CC-BY)
If there is anything special about Christmas this year, or you are doing something differently to normal, try and capture that as well. Even if the photos don't come out as well as you'd hoped, they will still hold a special meaning for you when you look back on them in the future.
Overall, have fun taking photos this Christmas, and I hope Santa brings you all the photography gear you want!