Photographs flawlessly capture the most beautiful moments and events of our lives, making them memorable for us. The art and perfection of storing these moments in a picture is called Photography.
A career in photography makes for one of the most interesting jobs possible. It needs the right blend of natural talent and formal training. The bent towards capturing objects and making each of them look marvelous.
Photographing People Like a Pro: A Guide to Digital Portrait Photography
Formal training, on the other hand, helps in learning the right approach and technique required to spruce up the photographs. The most alluring feature of photography as a career choice is that you can conveniently pursue field of your interest and choose from: fashion photography, wild life photography, nature photography, forensic photography, travel photography, sports photography, underwater photography, wedding photography and many other kinds of photography.
With the growing demand, there are many institutes imparting formal education and training on photography. These institutes offer various courses in different kinds of photography like:
Fine art photography, documentary photography, vernacular photography, astrophotography, endoscopy, photo journalism, fire photography, street photography, stock photography, still life photography, portrait photography, glamour photography, architectural photography, miksang (contemplative photography), etc.
How to select the course in photography
You must definitely choose the kind of photography that interests you the most and that you are passionate about. For instance, if wild life excites you, opt for courses in wild life photography. Similarly, if glamour attracts you, select fashion photography courses and so on for others.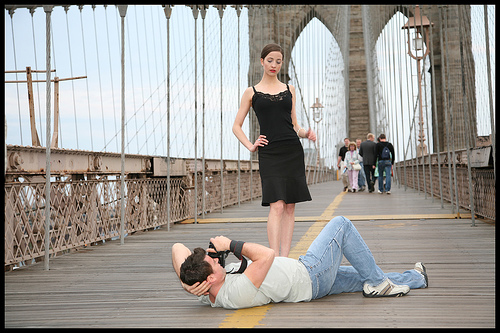 Fashion Photography by Orangeadnan on flickr (licensed CC-BY)
When selecting a photography school
When you have decided upon the course, make sure you finalize a school looking at the bigger picture. A photography school that synchronizes with your professional goals must be selected only.
Professional photography needs serious attention to detail and general business education comprising skills in mathematics, marketing, business management, etc. When selecting a photography school, ensure that it is fully equipped with all such kinds of requirements.
You must be careful while deciding on a school of photography as it helps in your transition from a student to a professional. Proficiency in computers is one of the most important skills required in the profession of digital photography. Your school must have courses in computer and courses in advance photography for levels of both beginners and experts.
Adobe Photoshop CS5 for Photographers: A professional image editor's guide to the creative use of Photoshop for the Macintosh and PC
The more education and training you take the more skills you have which are ultimately beneficial for your career in photography.
Before taking up a course in photography
One of the most primary things to know is the cost of your course. Fee is mostly predominant in courses in photography due to heavy equipment costs and lack of trainers. You may need to put in your own money in photography equipments like cameras, lenses, etc. apart from the course fee. It is advisable to check in advance the list of tools provided by the photography school and the tools you need to buy on your own to ascertain the total cost of the course in photography.
Your next step should be to make sure that you have the sufficient education funding or loan to pursue the expensive course. Also, check if there are some photography schools that provide scholarships or any other financial help to the students and only then work out the photographyinstitute.
Following these simple steps would help you in selecting the best institute for your photography course according to your interest and economic affordability. This asks for cumbersome search and comprehensive questioning but would prove to be worth all your efforts. The controlling factor should be your passion and determination in following your dreams of becoming a professional photographer.