Continuing on from the first article on choosing a speedlight flash, in this article we'll look at the various exposure modes available on different speedlight models. Some speedlights will feature all of these modes, others just one.
By understanding the different exposure modes, you can see which one(s) will be most useful, or even essential, for your photography, and ensure that any speedlight you consider features that mode.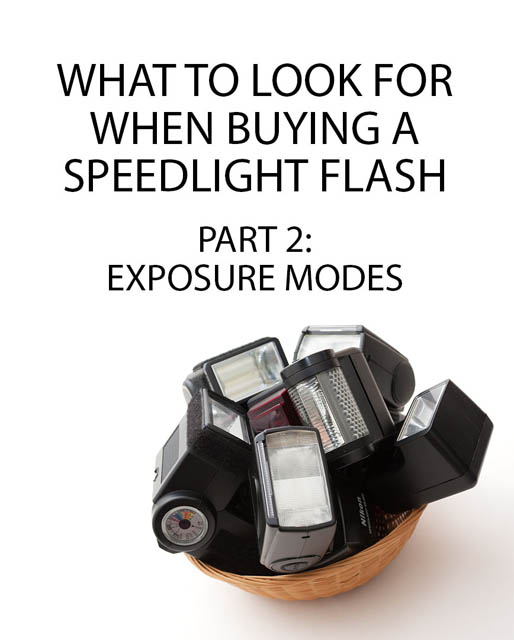 All currently produced camera manufacturer branded speedlights, and many of the more expensive third party speedlights as well, feature a TTL exposure mode. On a flash with TTL both the flash and camera 'talk' to each other. The camera tells the flash at what power to fire, and the camera adjusts the exposure settings for the image, knowing how bright the flash will be.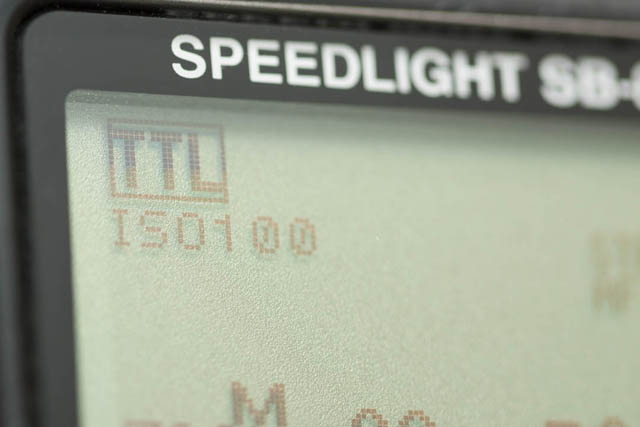 Rather than having to adjust your camera's exposure and flash power manually, it is all done for you automatically. You can also use manual exposure on your camera if you prefer, then the flash will adjust its power automatically to ensure the scene is correctly lit, varying its power depending on the camera settings and the ambient lighting.
For wedding and event photographers, TTL auto exposure flash is extremely useful. It saves having to constantly mess around with the flash settings. If an image is wanted with more or less light from the flash, flash exposure compensation can be dialed in.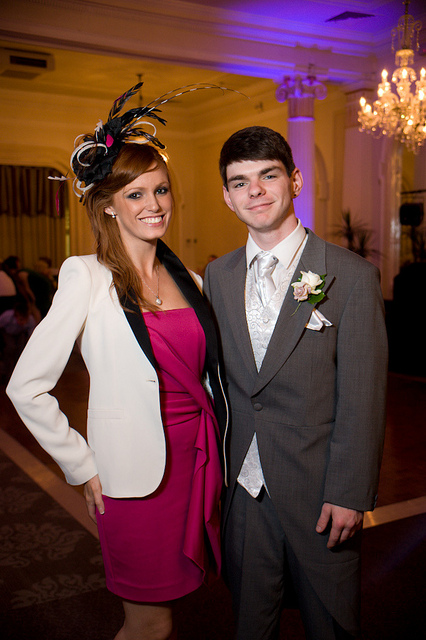 Joe and Cas by Algy O'Connell on Flickr (licensed CC-BY-ND)
For most other photographers, TTL flash is also very useful. Just as the majority of photographers prefer using an auto exposure mode on their camera, so most prefer using TTL auto exposure for their flash. It simply makes things easier.
Where TTL exposure is not so useful is when working in controlled lighting conditions, such as in a studio. TTL flash is not bad in this situation, but it doesn't offer a big benefit over manual flash. In controlled lighting, once the flash power has been set correctly, then it doesn't need changing. If you want to change it, then manually adjusting the power gives you more flexibility over dialing in negative or positive flash exposure compensation.
If you plan on shooting with flash in lighting conditions that may be changing, or you want a flash that you can just attach to the camera and get a good exposure without adjusting settings, then definitely try and get a speedlight that offers TTL exposure.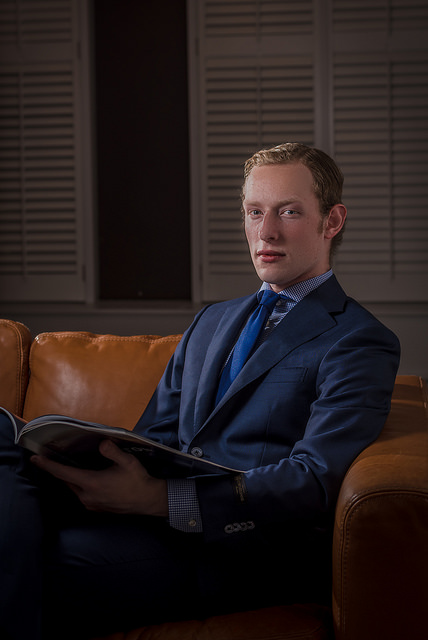 345/365. Niels is modelling a Corneliani suit for Chasen's. @nielsvank and @chasensmenstore, for Instagram. I took the Pic for their Instagram account. As a favor to my brother. by Angelbattle bros on Flickr (licensed CC-BY-ND) - TTL flash might not give the exact exposure you want, but it will get you around the right area and can easily be tweaked by applying flash exposure compensation.
Do bear in mind that each camera manufacturer has their own proprietary TTL flash system. A TTL Canon flash won't offer TTL auto exposure when used with a Nikon camera and vice versa. You'll need to make sure you purchase a speedlight that is designed to work with your camera system.
Auto exposure mode is where the flash tries to output the right amount of power to light the scene correctly, but without any communication with the camera. This involves more work from you than TTL flash, since you must adjust the flash manually to account for the ISO and aperture settings in use on the camera.
Having said that, in a few cases the camera may communicate the aperture, focal length etc. in use to the flash, so you don't have to set them manually. But the important difference from TTL flash is that the camera doesn't communicate with the flash to tell it how much power is needed.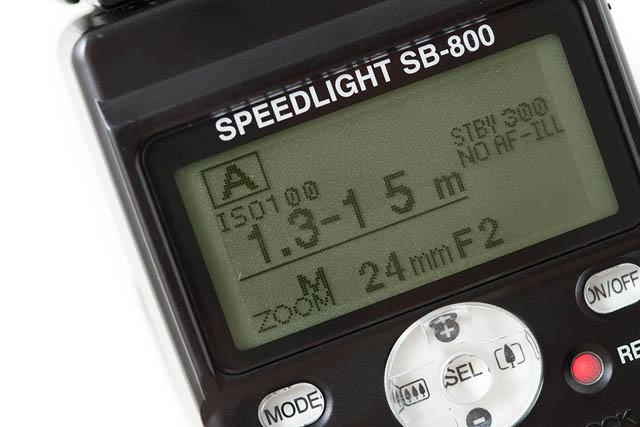 More modern speedlights allow you to set the aperture and ISO in use on the speedlight. Older speedlights typically have 4-5 different auto settings, and a dial or table printed on the flash that lets you determine the correct setting from the ISO and aperture you're using along with the subject distance from the flash.
If you want the flash to be brighter or darker then you simply adjust the settings as if you were using a smaller aperture / lower ISO (for a brighter flash) or larger aperture / higher ISO (for less light).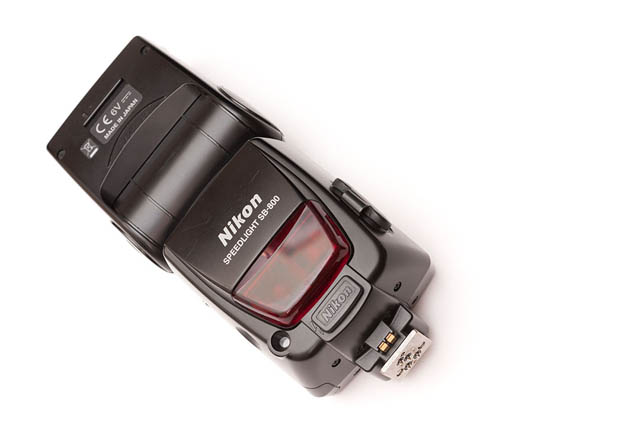 Photo lit by an old flash using auto flash exposure at the brightest setting and bounced from ceiling
If you're using the same camera settings throughout a shoot, then you should be able to set the flash correctly once and not have to adjust it again. The flash should automatically adjust its light output based on how much light it receives back when it fires.
The auto flash method of working is slightly different and potentially not as accurate as the TTL method of working. With auto flash the speedlight measures the light that bounces back towards itself. Whereas with TTL the light that is measured is that which actually hits the camera (exposure) sensor.
The majority of photographers prefer TTL auto flash over plain auto flash, however there are some who say they find auto flash gives more reliable results for them. If a flash features TTL flash, it may well feature a plain auto mode as well. So if you have a flash with TTL and auto modes, you can try both and see which works best for you.
Older speedlights may not have TTL, but they may have an auto mode, along with manual. Some smaller older speedlights feature auto mode only. It's also worth mentioning that the way auto mode works out the correct exposure will vary across models. Some flashes may give auto results that are just what you wanted most of the time, while others may be more variable.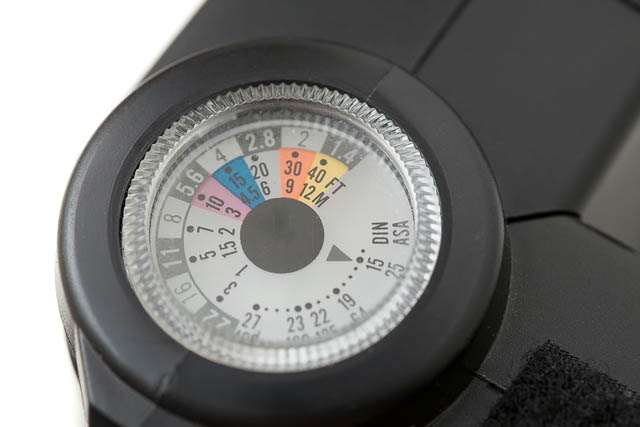 Example of dial on a flash for working out the correct settings - the flash features four auto modes with purple being the most powerful, and yellow the least powerful.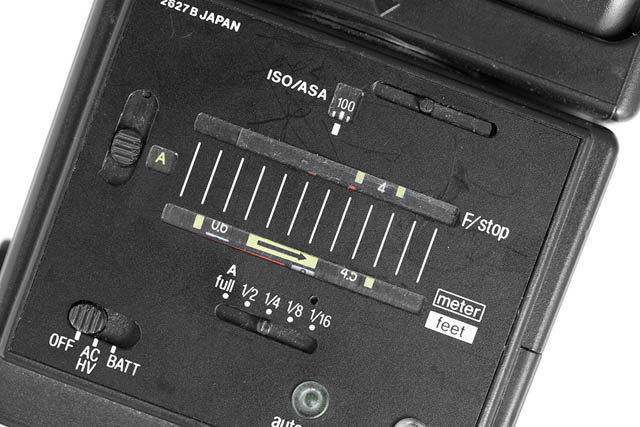 Example of another old auto flash with sliders to help setting and determining the correct settings for exposure. Again, a number of different power auto modes are available.
Manual exposure mode is found on almost all medium and medium-small sized speedlights. Some smaller speedlights don't feature a manual mode, or only allow manual control through the camera settings (meaning they are more difficult to control when used off-camera).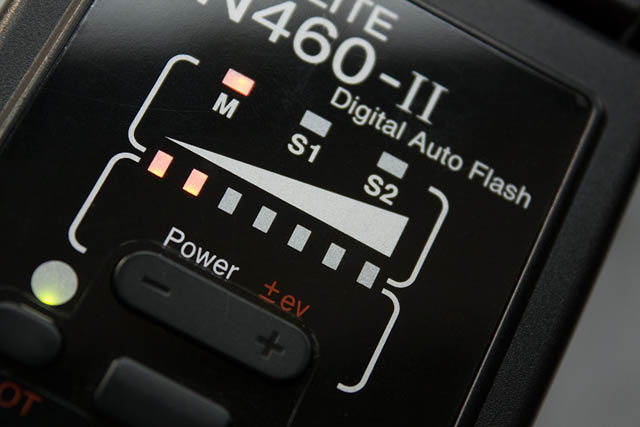 Example of a modern low cost manual power only speedlight
Manual exposure mode is very useful for studio style photography. It allows you to precisely set the flash to a specific power output. You don't need to worry about the flash changing its power output based on other lighting, like a flash in TTL exposure mode would.
It also allows you to choose a flash output that is much higher or lower than a flash in auto or TTL mode might. If you're trying to achieve a high key or low key image, this can be very useful. Most TTL / auto flash modes allow you to apply some degree of flash exposure compensation, but in some cases this may not be enough, and manual flash exposure may be needed to get the right level of light you are looking for.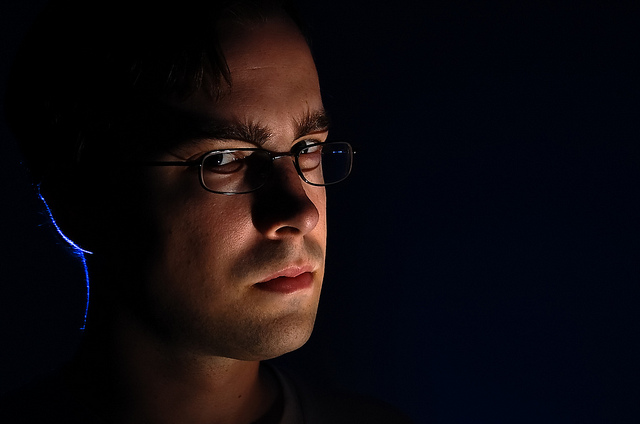 Needlessly Moody Self Portrait by Ryan Hyde on Flickr (licensed CC-BY-SA) - For dramatic lighting where areas of the image are very dark or bright, manually setting the flash power can be the best choice.
Because manual exposure is not reliant on the camera at all, it allows you to easily use a speedlight off-camera, or on a different brand of camera it was not specifically designed to work with.
For more general photography, manual flash exposure mode isn't that useful. Most photographers prefer to rely on TTL flash, and just dial in flash exposure compensation when needed. TTL is simply quicker and easier to use in most cases. But for slower work, or unusual lighting scenarios, manual flash can come in very handy.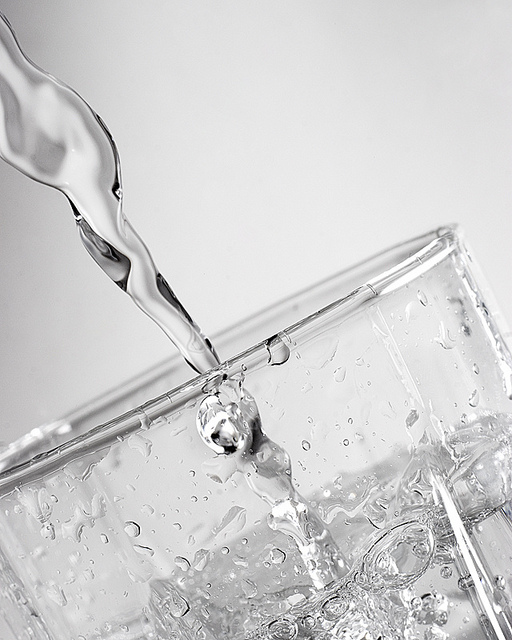 Glass of Water by Greg Riegler on Flickr (licensed CC-BY)
One thing worth checking on a flash that features a manual exposure mode, is how fine the adjustments are. Some speedlights only allow adjusting the power in full stops. Others may allow finer control, giving you half or one third stop adjustments. The finer the control, the easier it is to get the exact amount of light on your subject that you want.
With a flash that only offers one stop adjustments, one power level may be slightly too dark, while the next power level may be slightly too bright. It's not a big issue, but finer adjustments gives you more control and makes things easier.
The other thing to check is how many stops of adjustment the flash gives you. Some speedlights only offer 1/16 power as their minimum power (5 stops), whereas others offer 1/128 or even 1/256 (8 or 9 stops) as their minimum. A flash that only offers 1/16 power as the minimum can be difficult to use when you only need a very small amount of light from the flash.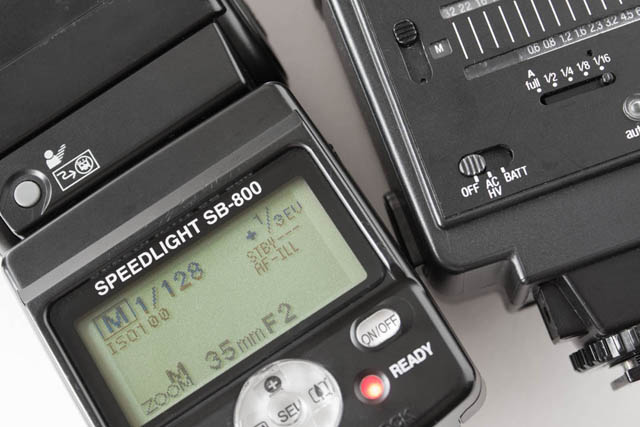 A relatively modern speedlight (on the left) compared to an old model (on the right). The newer speedlight offers manual power from 1/128 power in 1/3 stop steps, while the old flash only allows whole stop adjustments down to 1/16 power.
Most photographers just look for a speedlight that offers a reasonable amount of power and TTL exposure mode when buying a flashgun. But there are many other features you should consider as well. Some of these other features may be very important to you, others not important at all - it depends on the type of photography you intend to use the flash for. We'll look at these other features over the next few articles, so you can decide for yourself whether they are must-have, nice to have, or completely irrelevant for your photography.