When you're away on vacation, you want to take great photos to record your trip and the interesting places you visited. But if you're planning on visiting a famous location, how do you avoid your photos coming out like everyone else's vacation photos?
Well, having your photos of a famous landmark look unlike anyone else's photos of the same location is going to be very difficult, and perhaps not such a great idea anyway. Even if you do get a different photo, will it be any good? Instead, why not aim to have your photos looking like the best existing photos of that location?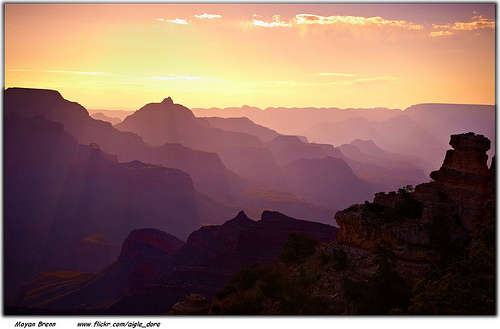 Grand Canyon Copyright by Moyan Brenn on flickr (licensed CC-BY-ND)
The simple way to do this is to look at other's photos of the same location, and see which ones you like best. Now, you don't want to copy other's images wholesale, but instead use them as inspiration for planning your own photo.
Using a service such as Flickr or Google Images, search for the location or monument / building you want to photograph. When looking at others photos that you like, try to note the following:
Time of year

Websites like Flickr often show the date that a photo was taken. Try to look at photos that were taken around the time that you are visiting. Locations can look quite different at different times of the year.


Sakura light-up at Chidoriga-fuchi in Tokyo 千鳥ヶ淵 by Marufish on flickr (licensed CC-BY-SA)

Depending on the time year, there may be different things about the landmark that you will want to emphasize in your photos. For example, in Spring you might want to focus on blossoming trees growing around a monument, while you might concentrate on large icicles hanging from the monument in winter.

Time of day

Again, you can usually find out the time of day that a photo was taken from the EXIF information displayed on websites such as Flickr. You might also be able to guess the time depending on the angle and color of light that is hitting the subject in the photograph.


Schloss Schwerin by saturn ♄ on flickr (licensed CC-BY-SA)

Generally, around sunrise can be a good time to photograph famous landmarks. The light shortly after sunrise is soft and warm, good for most photography. Unless it's the winter (when the sunrise is quite late), there are also likely to be far fewer people around. This makes it much easier to get the shot you want without getting people in the way.

Photographer location

Look at the shots of the area you like, and try to work out where the photo was taken from. Depending on the website you're using, you may be able to see on a map exactly where the photo was taken. Panoramio is a great website for seeing where photos were taken, and Flickr often has a link to a map showing where a photo was taken as well.

Angle

Pay attention also to the angle that the photo was taken at - was it at standing height, from high up, or from low down? Shooting from an unusual angle (often quite a low angle) is something that often separates great photos from vacation snaps.


Forbidden City, Beijing by Francisco Diez on flickr (licensed CC-BY)

Focal length

And don't forget to check the focal length of the lens used to capture the image as well. Many photographers include this in the description of the photo, and it is often available as EXIF data on websites such as Flickr as well.


Cristo Redentor (Christ Redeemer) by bossa67 on flickr (licensed CC-BY-SA)

The focal length of the lens used determines how much of the area the photographer can fit it from where they are standing, and also the perspective of the image. A wide angle lens has a wider view, while a longer focal length may be used for shooting from further away to compress perspective, or for detail shots.

Anything worth changing?

Finally, consider if there is anything about the photos you like that could be improved. Did they shoot it in the middle of the day and you think it might look better at sunset? Maybe you think a slightly lower angle would work a bit better? Or using a slightly wider angle lens and moving closer a bit?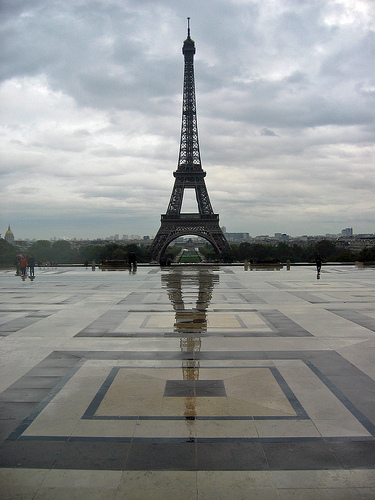 Eiffel Tower on a rainy day. by Poom! on flickr (licensed CC-BY-SA)
Sometimes someone may have captured an image where you can't think of any improvements. Never mind, just try and recreate that same image yourself. No doubt your image will actually end up being original and slightly different to the image you are trying to emulate.
But the main thing is that you are highly likely to end up with an image that you really like, and which is not just a typical vacation snapshot. Remember, studying the works of others, and then putting it into practice is a great way to learn.
After you've got the main shot you wanted in the bag, then experiment and have a bit of fun. Try some different angles and shooting from different positions. Go for some detail shots, and really work the subject. Even if all your experimentation shots turn out bad, at least you have that one great shot.