Setting up a home photography studio might sound expensive or like you'd need a lot of room, but actually it is something you can do yourself quite cheaply. The amount of space required for a studio area really depends on how large the subject you are photographing is.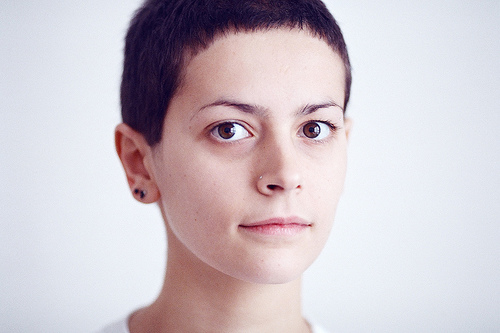 aleksanian by Bolshakov on flickr (licensed CC-BY)
Where
For photographing objects, you can just use a tabletop. For larger subjects, such as people, you will need a full room. You don't need to dedicate a whole room just to being a photography studio.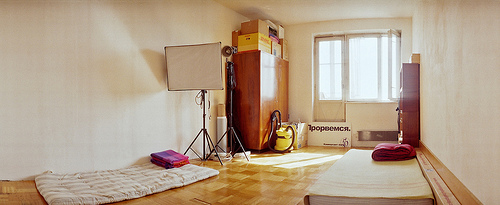 home/studio by Bolshakov on flickr (licensed CC-BY)
If you want to occasionally re-purpose a room as a photography studio, then it should be a room where you can move existing furniture etc. out of the way easily. The walls and ceiling should also be painted or papered a neutral color so as not to cause any color casts in light reflected from them.
Backdrop
For a backdrop there are a wide variety of materials, patterns, and colors you can use. However, to start off with, I would recommend using a large piece of relatively stiff material (it should be able to bend but won't crease). Card or vinyl both work well.
For the color, plain white works well in most situations. A white backdrop can also be used if you want to later extract the subject in Photoshop and drop in a replacement digital background.
For tabletop photography, you can just use a piece of white card. Secure one end of the card to the tabletop, and the other end to the wall (creating a curve where the wall meets the table).
For photographing people or larger objects, you will need to spend a bit more. You'll need a background stand that you can hang the backdrop from.
If you are doing full body portraits, you'll also need to purchase card / paper or vinyl in a roll. This gives you enough material to hang from the top of the stand down to the ground and cover a fair bit of the floor as well. You will need a hard floor (not soft carpet) else the background material will crease where the subject stands on it.
Lighting
For lighting, you can go from the most basic, just using natural light, up to a multi light setup with various light modifiers. The benefit of using lights / strobes is that you have more control over the direction, power, and spread of the light.
Reflectors can prove a relatively inexpensive way of adding more light to a scene. Mainly they are used to reflect some light back into the shadows, acting as a fill light. Positioned carefully behind the subject, a reflector can also act like a rim light. This adds some light to the back of the subject and can help separate the subject from the background.
You don't need to purchase a reflector designed for photography use. A piece of white card or a reflective windscreen shade designed for use in the front window of a car will work well too.
For lights you have a wide range of options. Hot lights refer to always-on lights. Strobes refer to lights that just fire a flash when you take the photo. Strobes tend to be more powerful, but you can't see the effect the lighting has as you adjust them without taking a photo.
Hot lights can be purchased very cheaply, as you can just use standard work lights available at most hardware stores. Specialist photographic hot lights are available too, but tend to cost quite a bit more.
Speedlights (hot shoe flash units) are not as powerful as studio strobe lights, but are much smaller and do not require mains power. This means you can also use them on location, or in places with no power supply. External batteries can be purchased for studio strobes, but they are big, heavy, and expensive.
When using hot lights, strobes, or speedlights, it is a good idea to make sure the light is diffused. This avoids the harsh shadows and highlights caused by direct lighting. You can purchase various light diffusers, such as softboxes and umbrellas, or make your own.
The larger your subject, the larger your light source needs to appear to create a soft diffuse light. So if you are photographing people, you will probably want a large softbox, umbrella, or to bounce the light from the ceiling or wall. For a small subject like an old camera you want to sell on ebay, a much smaller softbox could be used.
You can also buy (or make) light tents for photographing smaller objects. These surround the object with semi-transparent white material. This both diffuses light that shines through the material, and also reflects light back towards the subject within the light tent.
For a home photography studio that's really all you need. You can get some great studio style shots without spending thousands on equipment. Of course, if you have the money to spend, more expensive equipment generally makes it easier to get exactly the shot you had in mind.
So if you want to take some studio style shots, give it a try on the cheap. If you find you love it, you can always build up your studio gear as you go along.