Often I am asked, how to best start a photography business? The answer mainly depends on which area of you wish to specialise in photography, or you may decide to be a 'all rounder'.
You should clearly know this before the start of your business. There's nothing as distracting to achieving your goals as constantly jumping from one specialist area to another specialist area; you never make it in anything! You definitely need a plan for your business with targets and goals that you have to work towards.
Fast Track Photographer, Revised and Expanded Edition: Leverage Your Unique Strengths for a More Successful Photography Business
Your main aim should be to develop competency in as little as 2 or 3 areas. You have the option to choose among portraiture, commercial photography, pet photography, wedding photography, group photography and much more. The main difference among them are pressures you're under for producing that level of skill you need in order to please your customer.
For example, wedding photography will need working under lots of pressure among lots of people to produce these goods in just a few hours, however commercial photography could give you a couple of days, for example working with equipment instead of people. Hence, you have to decide if you're a people person and also if you have the ability and skill for finishing off the work in your chosen area.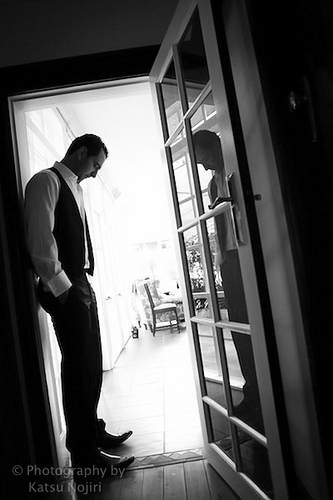 Wedding Photos by Katsu Nojiri on flickr (licensed CC-BY)
You also need to discover what photography style you have; this mainly applies to portraiture and wedding photography. Will it be reportage, will it be formal, will it be candid or perhaps a mix of these?
Then, after you created a good picture of where youre heading to with your business goals in photography, you have to start looking at the competition. What are the prices out there, the size for the market, what gear you need, the experience you need to develop, how and where could you develop it if you dont have it?
Again, as an example, wedding photography represents an area I would say you should stay away from before you gain confidence, people skills, technical expertise, and other skills required for creating a high standard product. Usually, I advise people to start with group photography, then work their way onto weddings.

Turner Family by Bniice Hugs N Kisses... on flickr (licensed CC-BY)
Ideally you could get a little experience by shooting together with some professional photographers, you could offer support service at zero cost in assisting the pro at weddings. You'll learn lots of experience this way. Other photography areas let you become familiar with exposure and lighting techniques before deciding to tackle the weddings photography. So maybe pet photography, or group photography would be best to start with.
Successful business means getting and then keeping your customers. Your aim in the beginning of your photography career should be to work extra for the first customers. For example, youll find that if you take nice photos for a family plus make a good job, they'll remember you and then you'll be the first choice for other family occasions. Marketing like this is the best by far type for your photography business.
Best Business Practices for Photographers