If you get a chance to visit any local market, you will see a wide variety of photography backdrops with different price ranges. There is a high chance that some of the photography backdrops appeal to you. However, you should keep in mind that these photography backdrops might have been bought by some other photographers as well.
So the question arises, how to make your photographs look different from the other photographers? The question may sound difficult, but the answer is fairly simple. All you need to do is to put on your thinking cap and use your creative instincts to come up with new ideas.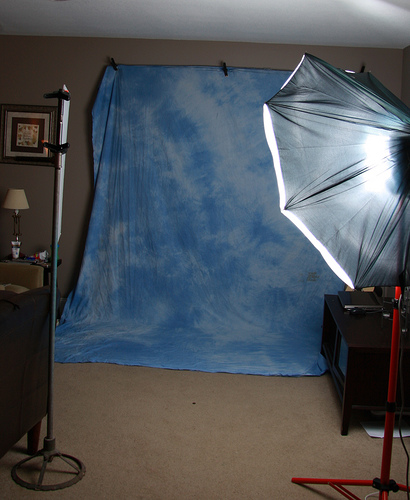 Studio2 by Bruce on flickr (licensed CC-BY-SA)
Some photographers are seen to be making photography back drops themselves. It is all up to you how you want your photography back drops look like. They can be as simple as a large remnant or can be a masterwork of sponge painting. The type of photography backdrops you need is dependent upon the goal of your photo shoot.
The easiest photography backdrops can be made from standard bed sheets. They tend to give a nice background to the photos as well. However, if you are looking for something rugged, you can visit any art or theatrical supply shop in your area and get some muslin or canvas. Painter's drop cloth is an ideal choice as well. You will be required to iron these materials before you take them for the shoot. For different kind of patterns and designs, you can put these photography backdrops in any box or bag so that they get wrinkled and look unique when you use them.
If you can't think of any creative ideas for your photography drops, arrange a trip to any local fabric store. You will be amazed to see the latest remnants and may help you in changing your mind. You may get some new crushed velvet designs or even cotton swatches to add more variety to your photography backdrops collection.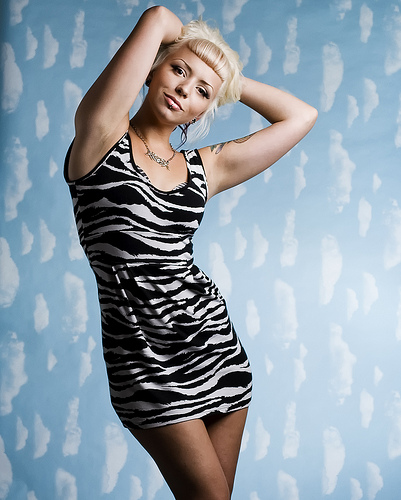 Ariel by Donovan Henneberg-Verity on flickr (licensed CC-BY-SA)
The professional photographers use photography backdrops as a vital tool for giving a new life to their pictures. Try changing a classic painter's drop cloth to bright colored velvet. You will see the dramatic shift in the overall atmosphere of the picture. The picture that once looked like a classic masterpiece will be looking trendy. This is the reason why photographers lay special emphasis on high quality photography backdrops.
Homemade photography backdrops do not just give a different look to your portraits but will personify your creative mind as well.