Alfred Stieglitz, born January 1864, died July 1946, was one of America's foremost photographers and played a crucial part during his lifetime in ensuring photography became an accepted art form in its own right. He is also known for introducing many European artists of the avant-garde to America and for being married to the painter Georgia O'Keeffe.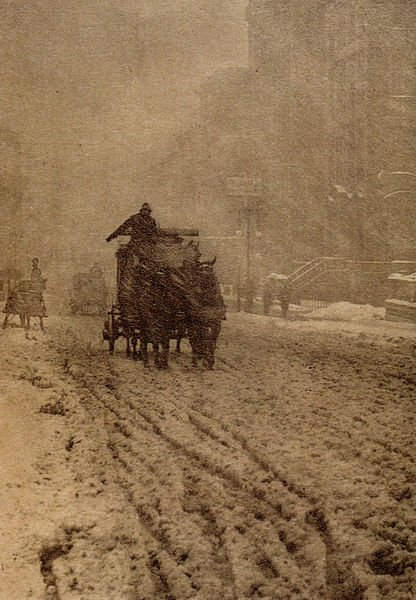 Stieglitz was interested in the techniques of photography and chose a hand held camera with no special lenses to achieve his atmospheric shots, one of the most famous being the image of a carriage pulled by a horse through a blizzard. To achieve this shot, he waited for three hours in heavy snow for something to photograph. In doing so, he employed the naturally occurring elements to achieve the softened definition and poetic atmosphere. In doing so, he placed the image in the arena of art as opposed to reportage. Stieglitz was to use the effects of the weather again and again in his photography.
He believed in what was then labelled 'naturalism', i.e. that the subject of an image should be completely in focus, whilst the other elements could be left out of focus, thus mimicking the way the human eye registers the world – falling on one thing at a time and allowing details around to diminish.
The famous image of the race course taken by Stieglitz in 1904 shows his concern with the composition, i.e. the relationship between the curve of the track, and the verticals and horizontals of the pillars, ceiling and horizon. The architectural nature of the image revealed how he was looking ahead and aware of how painting at the time was moving forward across Europe.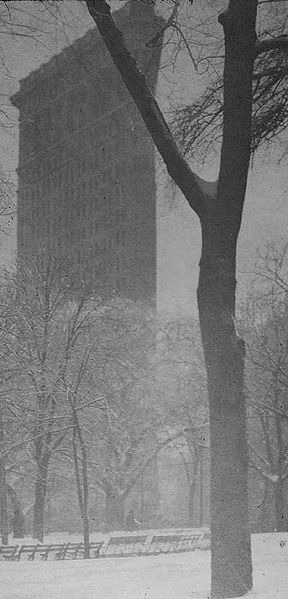 Similarly, just as the influence of Japanese wood cuts was affecting painting, so this can be seen in Stieglitz's photograph of the Flat-iron building. He said of the building that it "appeared to be moving toward me like the bow of a monster steamer–a picture of a new America still in the making." (Robert Hughes: American Visions, 1997). The building in the image contrasts against the natural silhouette of the tree, and serves to dwarf the person sitting on the bench, reminiscent of the Japanese prints in which humans appear tiny juxtaposed with mountains.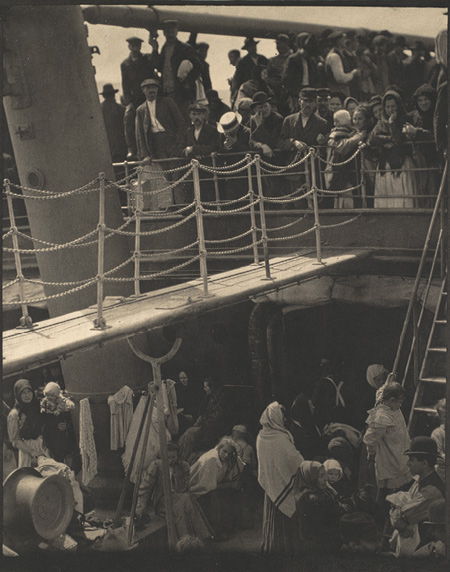 The photograph entitled Steerage market a change of direction for Stieglitz. In this photograph it becomes obvious that he has discarded the notion that photographs should look like paintings, allowing the photograph to speak volumes about the divisions in society at the time. After leading the crusade to allow photographs to be accepted as art, he began to take photographs in sharp focus that incorporated the full tonal range of black and white, with the intention of documenting. He was ready for photography which was about photography.